Shack Shine is Pioneering the House Detailing Industry. Want in?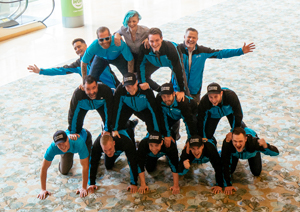 When you think of getting your windows or gutters cleaned, which national brand comes to mind? None? Exactly! Window and gutter cleaning services are part of the highly fragmented $100 billion dollar home service industry. It's a locally-focused industry, without one dominant brand. Enter Shack Shine: a revolutionary new enterprise backed by O2E Brands, the powerhouse that made 1-800-GOT-JUNK? a household name. We're pioneering the window and gutter cleaning industry by providing a comprehensive, customer focused experience we call house detailing.
The Shack Shine Advantage
Shack Shine offers a level of customer service three key tenants:
Friendly, Uniformed Technicians
Shiny, Organized Vans
One Detailed Visit
Because our system is simple and effective, it's easy to learn and do well. Shack Shine is part of serial entrepreneur Brian Scudamore's empire of home service brands (O2E Brands), which means Shack Shine franchise partners leverage the resources, knowledge, systems, and support of a $250+ million organization.
Why Partner with Shack Shine?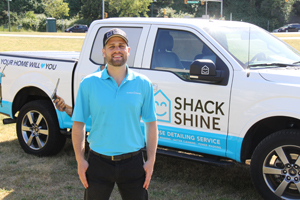 Our customers love us: we make it easy to book our service, and our service is fast, professional, and detailed.
World-class sales center: our sales center puts jobs on your schedule. Our team, based in North America, takes customer calls so that you can focus on running the business.
Repeat customers = recurring revenue: After their first experience with us, many of Shack Shine customers have us back to detail their house regularly! This easy source of recurring revenue grows your Shack Shine business quickly.
Work/life balance: House detailing has two peak seasons: spring/early summer and fall/early winter. The seasonal cycle offers a high degree of flexibility and provides an excellent work/life balance to our business owners.
Proven systems: The Shack Shine business model is based off of the systems and processes that made 1-800-GOT-JUNK? an international, multi-million dollar home services brand. Nothing predicts success like a proven track record!
Coaching and support: We assign a Business Coach to each Shack Shine franchise partner who provides classroom training, in field training and weekly phone calls to help guide the business.
Online Booking Engine: our online booking engine enables customers to book and schedule their detailing jobs in minutes. You wake up and new customers are on your schedule. Magic!
Hear from our Franchise Partners
"We joined the Shack Shine family in January 2016 and we're very glad we did. The support we continue to receive is incredible Any time that we have a question or a concern, we can just reach out to the team at the head office. I know that without their help, we wouldn't be where we are today." Kit Hulbert, Shack Shine Franchise Partner