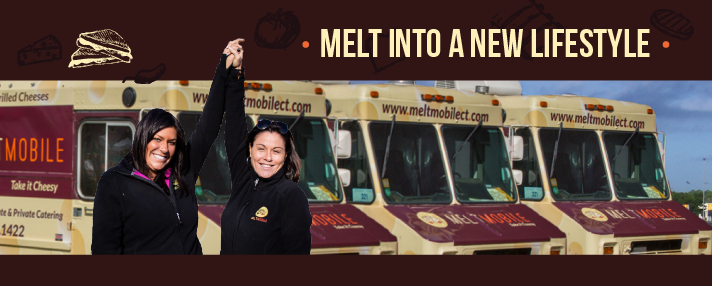 Drive Toward Your Dream with Melt Mobile
Melt Mobile is a mobile kitchen that specializes in a variety of homemade grilled cheese sandwiches infused with originality, sustainability, and high-quality ingredients.
We pride ourselves on bringing the highest quality food to the food truck market. You can feel good about selling high-end products without the overhead of a traditional brick and mortar restaurant.
Melt Mobile serves hungry consumers in two ways: first, by situating our trucks in high-traffic, convenient, and safe locations; and second, by providing catering services for corporate events, home parties, picnics, weddings, and more. There's nothing "cheesy" about our business model, or our product. In fact, we treat each sandwich like a piece of art and show that same respect to our customers.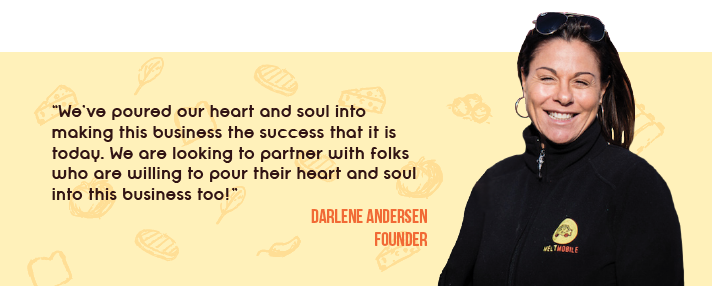 A trending (and trendy!) industry
Melt Mobile operates within the surging food truck industry which collectively outputs $1.2 billion annually and is one of the best performing segments in the sector. The food truck industry emerged during the recession in 2008 when restaurateurs recognized changing consumer preferences favoring unique, gourmet cuisine at a budget-conscious price. Since then, this industry has consistently made strong year-over-year sales gains. According to IBISWorld, a market research firm, from 2011 to 2016 food truck industry revenue grew at an annual rate of 7.9%.
Food trucks have become especially popular since they are more economical compared to brick and mortar restaurants. Rent and overhead costs are low, and the average cost to serve a food truck meal is $6.33 compared to the average cost of $14.09 at a restaurant. Another advantage that makes food trucks appealing, is that food trucks can be moved if one location does not generate enough business whereas a fixed restaurant is locked into their selected real estate.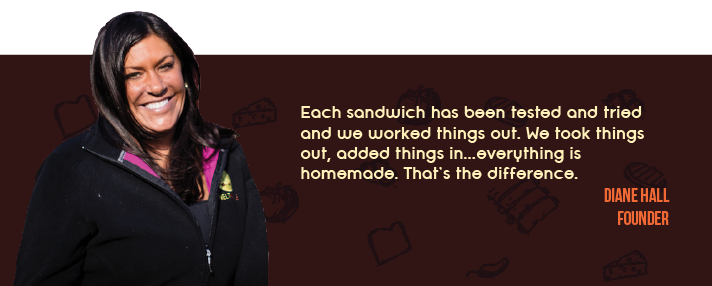 Turning a traditional favorite into a high-end indulgence
We use the highest quality ingredients, coupled with techniques honed at the French Culinary Institute in New York, to create our signature sandwiches that have raised the bar of what a 'grilled cheese sandwich' can be.
High quality ingredients: From organic fresh produce, to artisanal breads and high quality imported and domestic cheeses, we are all about high quality.
Multiple revenue streams: Whether it's operating in special events, securing ongoing locations like office buildings or catering a private party; having multiple revenue streams is the key to the success of this model.
New day, new location: Tired of looking at the same office wall everyday? We were too. As a Franchise Owner, you can travel all over your community and state, enjoy the outdoors and meet new people. Variety is the spice of life!
Scalability: Setup from 10am to 11am, serve from 11am to 2:30pm, and then enjoy the rest of your day. Create an unprecedented amount freedom and flexibility for yourself as a Franchise Owner.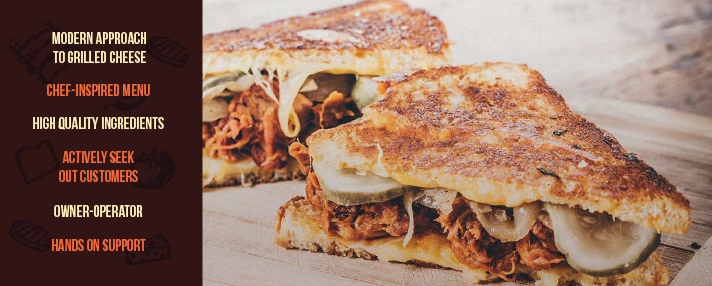 We'll help you drive your dream
We're committed to the continuous pursuit of perfection for our customers. That same ideology is applied to our Franchise Owners. If you're awarded an opportunity, we'll be working closely to ensure our mutual success. Through initial training, product research and development, marketing, operational guidance or P&L analysis, we're committed to ensuring your operational excellence.
Request information now and starting driving towards your dream of business ownership. We'll contact you to see if you qualify to enter our education process.