Welcome to Sweetwaters
Thank you for your interest in Sweetwaters Coffee and Tea. Sweetwaters was founded in 1993 by Lisa and Wei Bee in Ann Arbor, MI. Both Lisa and Wei grew up in families that owned restaurants. They witnessed firsthand not only the benefits of business ownership, but also the challenges of operating a full-service restaurant. At Sweetwaters, we have spent nearly 25 years continually developing and refining a semi-absentee business model that is far easier to operate than a full-service restaurant. We specialize in hand crafted artisanal drinks and a limited food menu, creating a café model that is highly profitable and scalable for its franchise owners. Sweetwaters provides affordable luxury to a loyal and diverse community of guests who establish a regular routine of frequenting their locations. We invite you to see how Sweetwaters has created a deliciously different and addictive café experience. We look forward to helping you capitalize on the fastest growing niche in the restaurant business!
Coffee & Tea Industry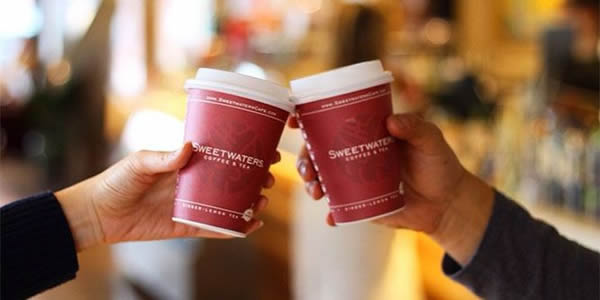 While fast food businesses are growing at a rate of 2 percent each year, coffee shops grow more than 7 percent annually, making it the fastest growing niche in the restaurant industry. The US coffee shop industry includes more than 22,000 stores with combined annual revenue of about $12 billion.
Industry Characteristics
The coffee shop business is driven by a unique set of characteristics that are unmatched in business ownership. These attributes attract professional men and women to our business and become the foundation of our franchisees success:
54% of Americans drink coffee every day
40% of 18-24-year-old drink specialty coffee
Specialty coffee is growing by 7% per year
40% of Americans drink tea every day
Specialty tea is growing by 8-10% per year
Business Model Characteristics
Ability to keep a full-time job
Managers run café
Open multiple cafés
Limited flexible time commitment
Multiple revenue streams
Cash business with no receivables
Community involvement
Low investment ($245K - $395K)
Habit forming product!
Role of the Owner
Sweetwaters is about building a business, not buying a job! Our successful franchisees work on their business, not in the business. Your role as a Sweetwaters owner would be to run the business side of your café while leaving the day-to-day operations to your management team. This frees up your time to work with us to grow the brand, drive income, increase asset value and build wealth.
Testimonials
"The decision to open our own Sweetwaters Coffee & Tea franchise was a big one and we couldn't be happier with how things turned out. We received amazing support and guidance from Sweetwaters Corporate, as well as Franworth. From the day we started looking at real estate, to when we opened our doors, we had a team of people behind us assisting in each step."
Kristina & Jay Wilson , Sweetwaters Franchise Owners - Canton, MI
"One of the things I admire most about Sweetwaters Coffee & Tea is the culture that it fosters, from the top down, and its focus on exceptional customer service and product quality, the two things I most value as a food service establishment. The support and attention that Sweetwaters Corporate provides to each individual location is unparalleled. Sweetwaters Corporate has been incredibly supportive with its time and resources in helping my store with marketing materials and much more. All in all, I've enjoyed my experience as a franchise owner, and I feel fortunate to be part of the Sweetwaters Coffee & Tea team.
Junyi & Sheila Qin Li , Sweetwaters Frachise Owner - Ann Arbor, MI