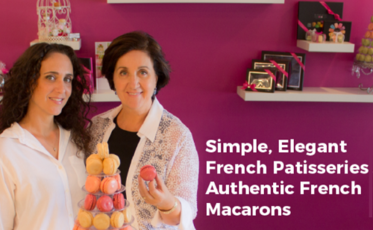 Our French pâtisserie are unique, simple, niche businesses with limited direct competition. Start a business that is fun and rewarding while enjoying good will environment and community support!
Say "Oui" to an Exceptional Opportunity! 
Discover our delightful concept that has almost no direct competition.
An American Dream...
Rosalie Guillem and her daughter Audrey Guillem-Saba had a dream – to share delectable French macarons with the world. The family, originally hailing from France, were surprised to find that the American take on the "macaron" was often simply sugar spun into a cookie shape or confused with the familiar coconut cookie "macaroon". By treating the American palate to true French macarons, they could bring a taste and texture sensation to the marketplace.
In 2009, Rosalie and Audrey began sharing their delectable macarons with the American consumer market and opened their first Le Macaron French Pastries®. Because of frequent requests from customers to open a Le Macaron French Pastries pastry shop in their community, the company began franchising in 2012.
Our niche concept is unique, with very limited competition. Today's consumers are eager to engage with their food in new, creative ways. They want flavor and texture, quality, and presentation; they are more health conscience. Each of our signature pastries is handcrafted by our team of French chefs at our Le Macaron French Pastries commissary, and we use only the finest gluten-free ingredients and no preservatives.
The Le Macaron Business Model
Beyond the signature macarons, our menu includes gourmet chocolates, French gelato, classic French pastries, European-style beverages and homemade candies. Some locations may also serve a variety of wine and sparkling wine.
Our French pâtisseries are a modern European design with no on-site baking, providing refined operations so that minimal staffing is required. You can leverage a streamlined process with no on-site baking and multiple streams of revenue which include Catering/Delivery, Satellite Kiosks, Carts and Special Events.
Owner-operators take pride in creating an upscale retail oasis that introduces a new culinary standard in their communities. Meanwhile, you'll enjoy a smooth transition to entrepreneurship with the expert guidance of our support team. Both first time entrepreneurs and experienced investors can benefit from our unique opportunity. We share the same goal in their success!
2017 Entrepreneur Magazine - Ranked #415 on its 38th annual Top 500 Franchises
2017 Entrepreneur Magazine – Ranked #22 on its Top Best New Franchise Opportunities
2016 Entrepreneur Magazine – Ranked #56 on its Top Best New Franchise Opportunities
2016 Inc. Magazine - Ranked # 1476 on its 35th annual Inc. 5000, the most prestigious ranking of the nation's fastest-growing private companies.
The Bakery Industry
An estimated 2,700 commercial bakeries and 6,200 retail bakeries make up the U.S. bakery products industry – bringing in a combined annual revenue of more than $30 billion in 2015. Smaller brands within this space maintain a competitive edge by incorporating specialty offerings and changing consumer preferences. Studies show that the sales of gluten-free foods increased in 2015, one in five Americans incorporated gluten-free foods into their diet.
The bakery/café industry grew by 5.8% between 2010 and 2015. People are longing to engage with their food in new, creative ways. They want flavor and texture, quality and presentation, not just a spin on the classic American treats and they are more health conscience.
To answer that growing desire, we say, "Voilà!" Complete with all the charms of a traditional pâtisserie, our boutique-style cafés invite guests to slow down and experience the best of France in just a few bites.
You'll succeed if you have...
A belief in Le Macaron French Pastries product and business model
A desire to engage guests and a passion for excellence in customer service
A strong sense of community
Basic business knowledge and the willingness to learn.
The ability to lead with the attitude of a team player.
Request more information today and start your own journey towards Le Macaron ownership.