What's Flour Power All About?
Let's Stir Up Some Fun at Flour Power Kids Cooking Studios!
All children learn through hands-on discovery.  Add the ingredients of fun, energetic adults and the love for home cooked food, and you have stirred up the essence of a Lil' Chef. From preschool to teens, we sizzle up amazing programs such as Birthday Parties, Weekly Classes, Camps, Adult Classes, Corporate Events, Kids Night Out Events and Etiquette Classes.  
A Recipe for Success: 
Franchise Opportunities:
Making A Positive Impact in YOUR Community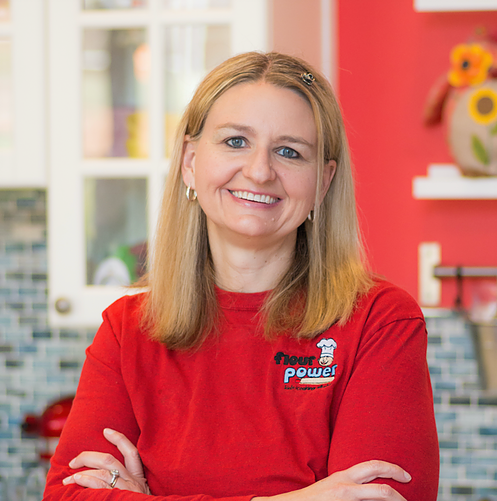 Greetings from Flour Power!
My name is Susan Caldwell and I began a children's cooking company in 2008 to teach children so many life long skills in the kitchen! Cooking teaches children so much! From reading and math skills to kitchen science and chemistry, does it ever get more exciting for a child (or for us adults)?
As a Certified Personal Trainer, I began a youth fitness program in to teach children life long fitness habits at an early age in 2008 after personally losing 125 pounds the "old fashioned way." I brought in portable cooking equipment into our gym and taught my lil' chefs a few healthy snacks after our fitness lessons, which left them begging each week for more cooking. Very soon, Lil' Chef Raleigh was born! We opened our first studio under that name by converting half of our gym into a kitchen for kids in 2009 after I taught cooking classes at home for over a year. We grew so quickly and have such a loyal following that we moved into a 2700 sq. foot space in Raleigh's North Hills shopping center where we built two kitchens to reach even more children in 2011.
In 2013, we grew again by opening a Charlotte, NC studio under our newly trademarked name, Flour Power Kids Cooking Studios! In 2015, we opened an additional location in Raleigh, NC because we were so over capacity.
2016 brought our first franchise location in Cary, NC!  Also, in 2016, Charlotte became a franchise location with a new owner!
I'm super excited about sharing my business knowledge, successes and experiences with a qualified select group of entrepreneurs who want to own their own Flour Power studio. My team will provide unparalleled support, lesson plans and so much more to help spread our positive message about changing lives of children in our communities by introducing new, healthy foods in a hands-on environment.
If you feel that the Flour Power opportunity might be right for you, complete our contact form below and our executive team will follow up with you soon.