About In-Symmetry Spa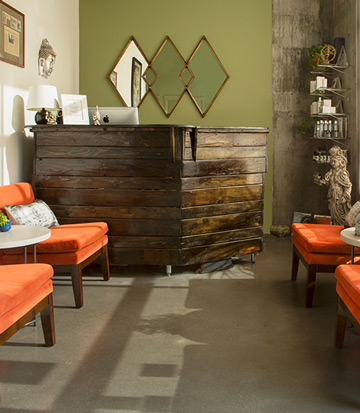 In-Symmetry Spa provides deep-tissue massage with a structural focus, perfect for athletes, pregnant women, people with desk jobs, service workers, or anyone with chronic pain. All of our treatments feature our signature hot stone therapy, guaranteed to melt tension away. Our boutique skin care program offers facials, full-body waxing, microdermabrasion, and chemical peels featuring professional products and results-driven customized attention. Founded in San Francisco in 1999, our unique spa aims to provide accessible wellness options for any community.
What makes In-Symmetry Spa different from other spas out there is that we are completely results-driven. We want every single client to feel like they've accomplished something when they walk out of our doors, and our unique approach to structural bodywork and skin care does just that. Our hands-on approach to each franchisee also sets us apart from other franchises. Picking a location, negotiating a lease, pulling permits, and hiring your team are all areas that we bring our 18 years of expertise into. We're good at what we do. Being family owned and operated, Candace Combs and Dave Combs bring this element into every aspect of the business. This isn't just a business, it's a family. We want every franchisee to feel like a part of our In-Symmetry Spa family.
WHAT CAN I EXPECT FROM AN IN-SYMMETRY SPA FRANCHISE?
Owning an In-Symmetry Spa franchise allows you to realize your dream of owning a wellness spa, medi-spa, or integrative medicine clinic, utilizing over 20 years of expertise from our health and wellness experts and business gurus. By partnering together with us, you will have a dynamic team guiding you in this highly competitive industry, ready to provide you with knowledge and support in every step of the process. This will allow you to relax, knowing you're on a fun and profitable venture.
WHAT KIND OF OPPORTUNITIES ARE AVAILABLE?
In-Symmetry Spa franchise opportunities range from a single unit franchise to an area franchise (of 3 miles or 40,000 population).
WHAT TRAINING IS AVAILABLE THROUGHOUT THE PROCESS?
In-Symmetry Spa's immersive training program ensures that franchisees are fully equipped with the right skills and expertise to open their own location. Hours of hands-on training at an established site and ongoing support ensures that each location functions at a high level of excellence.
Contact us today to get started!