You Won't Have to Massage the Figures with This Franchise!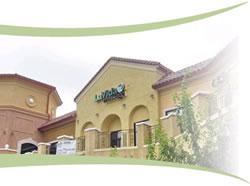 Our business model is built for success in any economy. We provide top quality massage previously available only at day spas and resorts. Our centers are conveniently located, elegant and appealing to both men and women.
Our business model enables us to provide the highest quality services at affordable rates, allowing people who have never tried massage to benefit from the health and wellness aspects of this wonderful modality.
Keys to our success include; virtually no inventory or carrying cost, a proven strategic marketing plan that positions us within the health and wellness industry, and our management and franchisee support system.
Why buying a LaVida Massage franchise is a sound investment

LaVida Massage requires limited or no inventory
Your customers and employees can not be outsourced
A service based business model with no receivables
Massage therapy the hottest sector in health and wellness
Our web-based software allows you access to your business from any internet connection
Our centers are gender neutral and family freindly
Do You Want To Rekindle Your Passion? Looking For a Career Change?
It's no secret that LaVida Massage is doing well in today's troubled economy. Massage therapy is the oldest and simplest form of medical care. The Industry is booming as awareness of the therapeutic properties of massage continues to grow.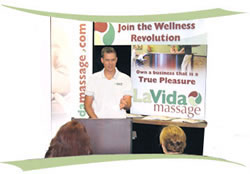 Please fill out the form to find out why a LaVida Massage center is not only right for you, but right for you right now! LaVida Massage reveals the secrets of owning a successful franchise with its "Three Steps to Ownership". These steps to owning a LaVida Massage franchise addresses many, if not all of the "frequently asked questions" you will encounter as you take the journey towards owning your own LaVida Massage Center.

The "Three Steps to Ownership" will give insights into areas such as LaVida's history, the industry, how to build your own business, training, marketing, hiring and retention of staff, center operations, real estate and development, investment criteria, franchisee requirements, availability and more.
Don't envy the life... live LaVida!