About Molly Maid
Molly Maid is a wonderfully uncomplicated opportunity with surprising rewards. We are one of the world's most recognized residential cleaning services. Our owners enjoy recurring revenue from repeat customers.
Build financial freedom and the lifestyle you want
A turn-key and uncomplicated business to run
An attentive and professional corporate support staff on your team
A proven business in a $10 billion market with a 90% repeat customer base
Over 250 franchisees with successful businesses across the country
Molly Maid – USA's Most Recognized Cleaning Franchises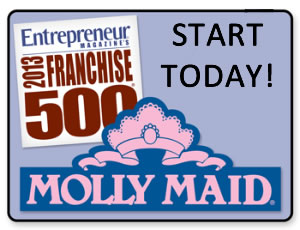 As one of the most recognized residential cleaning services, we provide professional home cleaning to millions of customers nationwide. Our franchisees spend their time managing a highly scalable business. Their employees clean the homes.
Molly Maid is a lifestyle business operating Monday – Friday, 8 to 5. Today's busy families, young professionals and active seniors are on the go and need assistance with their housework. Residential cleaning is a $10 billion market.
The Opportunity
For nearly 30 years, Molly Maid has provided its franchise owners with a solid and simple business model, innovative systems, and superior support. Molly Maid's repeat business, strong national brand recognition, and simple business model present owners with an opportunity for high income, security and the time to enjoy their success. 90% of our customers are repeats – helping to provide predictable cash flow in any economic environment.
Benefits of Ownership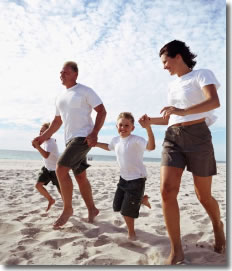 Molly Maid is the only maid service that has consistently built the largest franchise units in the industry. Refer to our "Item 19" in our Franchise Disclosure Document and you will see that Molly Maid franchise owners average impressive recession resistant annual sales. Here are several more reasons to join the Molly Maid franchise family:
You won't vacuum - you manage and inspire cleaning teams who will.
You'll build equity in your business and plan your own exit strategy.
You'll be a respected business leader - our franchise owners give back to their communities.
You'll receive training and support that no other franchise system can provide.
You'll be a part of a competitive franchise team and an unrivaled brand culture.
Testimonials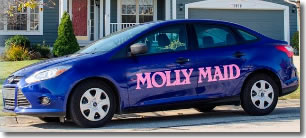 Owner Testimonial
"I just wanted to let you know I'm really enjoying my new career with Molly Maid. The support from the corporate office has been outstanding and the help from other owners just as great." - Eric Saddler, Molly Maid of West Chester, OH
Customer Testimonials
"I love coming home and seeing the house looking great, which is not easy with three dogs. It's the same two ladies that come to our house and they know exactly how we like it cleaned." - Curt in New JerseyM

"This was our first scheduled cleaning. We are so HAPPY with it. Traci and Tina did a fabulous job. We are looking forward to them coming next month. WOW! Even better than we expected!" - Carla and Eric in Ohio
Molly Maid is the flagship brand of the Service Brands International family of home services franchise brands.