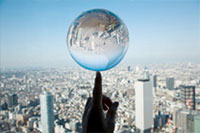 The Crestcom franchise model gives franchise owners the support, training and tools needed to operate their own business providing our world-renowned training. Crestcom franchisees feel rewarded by helping others grow professionally and realize success. Find out more about starting your own Crestcom franchise.
Own a Crestcom Franchise
People from every industry and walk-of-life are saying goodbye to the corporate grind and choosing to own their own business by investing in a Crestcom franchise!
Become a part of Crestcom's global network of franchisees and position yourself for success at the forefront of a business niche that is in constant demand. Leadership and Management training is a rewarding career!
Find out how a Crestcom franchise can help you create:
Financial Freedom
More Family Time
Stress-free Work Environment
Pride in Your Career
You're ready to own your own business - so why choose Crestcom?
Changing the way business is done – around the world.
Crestcom International has been a global leader in the areas of management and training for almost three decades. Today, Crestcom's Signature program, The Bullet Proof® Manager, is one of the training industries widely — used management and leadership development programs among Fortune magazine's Top 100 Companies.
Each month, thousands of business professionals from across six continents participate in the Crestcom Bullet Proof® Manager training. Our proprietary training is changing the way businesses motivate, communicate and help managers succeed.
Is Crestcom Right For You?
When researching a franchise opportunity, you naturally ask the question "is this business a good fit for me?" and, more importantly, "will I be successful?" Franchisees that experience success with a Crestcom business vary in age and background, but generally all possess the following qualities:
Excellent communication and presentation skills
Time management skills
The ability to develop relationships and trust
Executive level sales skills
The ideal franchisee candidate is passionate about helping others. They feel rewarded by assisting managers to become leaders and succeed in business. Others choose Crestcom because of its low overhead, giving them an opportunity to work from their homes, and having few, if any, employees. Some franchise owners chose Crestcom because of the opportunity for a lifestyle business.
Franchise owner backgrounds include executives, marketing managers, engineers, customer service specialists, accountants, attorneys, teachers, sales managers and entreprenuers.