About Us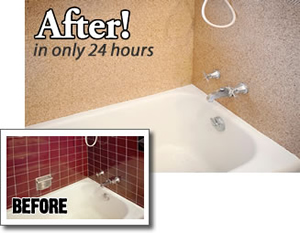 Worn out bathtubs, tile and countertops can be worth hundreds of thousands of dollars to you!
Miracle Method upgrades baths and kitchens without the mess and hassle of replacement. Our unique refinishing process saves our customers up to 75% over the cost of replacement. Most of our transformations are completed in just 2-3 days.
Since saving money never goes out of style and because every home, hotel, college, hospital and apartment has a bath and kitchen, our services are always in demand!
Miracle Method is the nation's largest surface refinishing organization. Our franchise network started over 30 years ago and has grown to more than 125 franchises across the country.
Our objective is to be the best at what we do and live up to our reputation as "The Preferred Refinisher". We strive to be the industry leader by offering the best service and new, innovative refinishing options for our customers while helping our franchisees achieve financial success.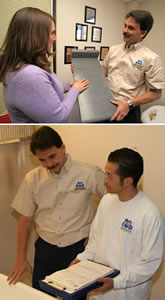 Why Choose Miracle Method?
When you succeed, we succeed. We provide you with all the training and systems that you need to thrive in your new business.
Our National Team supports you! Starting your own business can be overwhelming, but we're there to walk with you. We will show you how to:
Make the phone ring
Hire employees
Set up operating systems
And just about anything else you need to manage and grow your business.
We have a vested interest in your success and we have the proven procedures to help you be successful!
With a Miracle Method franchise, you'll own a business that:
Has a low capital investment
Can update the appearance of nearly every kitchen and bath
Has yet to be discovered by 80% of homeowners
Enjoys broad demand for its services – residential and commercial
Supports a family friendly work schedule
Saves customers up to 75% over remodeling replacement costs
We offer the best refinishing available!
How can we be so confident? Simple, we use a proprietary bonding agent called MM-4 that makes our finishes bond better and last longer than any of the competition. We guarantee our work for five years, but a Miracle Method refinished tub will last 15-20 years or more.
So if you're a motivated entrepreneur ready to take charge of your future, then you should dig deeper into what Miracle Method is all about. Contact us by phone or email; we'd love to talk to you!

Ideal Candidate
We're looking for franchise owners who are outgoing, have sales and/or management experience, and who are results and goal oriented. A person who can build relationships, lead a team, is motivated to succeed, and who has the desire to be the Best! You must have a minimum of $85k in liquid capital, and be ready to make a full-time commitment.
Testimonials
Even with no prior experience running a business, Andrew got off to an excellent start in May 2007. "It was actually very easy" said Andrew, "I simply followed Miracle Method's plan for advertising. My phone started ringing and I've been running ever since!" Andrew Gorski, Cleveland, OH
"After years in corporate America, we decided to start our own business for job security, freedom and financial gain. We found that becoming a Miracle Method franchisee opened the door to the experiences and knowledge of franchisees who have been refinishing collectively for well over a 100 years. Why spend years developing a system when one is available that is proven, profitable and successful? Miracle Method's technical, marketing and administrative support helped us build a million dollar business faster and with more profit than we could have done on our own." Leo & Emily Sayles, Columbus, OH
"My franchise does over a $1,000,000 a year and I'm still no where near my potential. Hardly a day goes by when someone doesn't say 'I'm glad I found you, or I didn't know you could do this'. My greatest growth is ahead of me and I've been doing this for over 20 years." Eddie Naro, Corpus Christi, TX