They see signs.
YOU SEE DOLLAR SIGNS.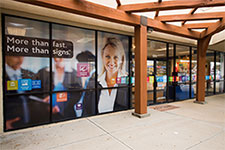 Signage has never been more important. Right now, businesses are looking for new and better ways to compete. Industries are revamping to meet compliance standards. And advertisers are expanding their reach into new media, like digital signage, QR codes and mobile websites. Join the franchise that's leading the next generation of business communication. Now more than ever, businesses look to FASTSIGNS® for innovative ways to connect with customers in a highly competitive marketplace. Our high standards for quality and customer service have made FASTSIGNS the most recognized brand in the industry, driving significantly more traffic to the web than any other sign company.
WE ALSO LEAD IN THESE IMPORTANT AREAS:
#1 Ranked Sign Franchise in Entrepreneur Magazine Franchise 500 – 2011, 2012 & 2013
Franchise Business Review FBR50 Franchisee Satisfaction Award 2006-2013
Franchise Research Institute World Class Franchise – 2012 & 2013
CFA Franchisee's Choice Designation – 2013
FASTSIGNS is one of only a handful of franchises approved for the Franchise America Finance Program, with US$6 million in financing for approved franchise candidates
About FASTSIGNS Franchise Opportunity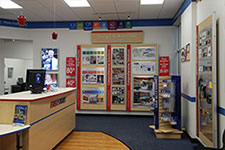 As a FASTSIGNS franchise owner, your earnings potential is unlimited. FASTSIGNS provides candidates with an Item 19 including full profitability information. And you'll enjoy owning a business with these compelling features:
Business-to-business hours
Low staffing requirements
Professional business clientele
Attractive margins
Strong support drives
MORE BUSINESS TO YOUR DOORS.
In an industry that's experiencing unprecedented growth and rapid innovation, you want a leadership team that can provide strong strategic direction. FASTSIGNS excels here, too. We invest in our franchise owners by offering a royalty reduction of 50% in the first year for a faster ramp up. And you also have the benefit of dedicated support in:
Site selection and build-out
Four weeks of training, including one week of training in a FASTSIGNS center, followed by two weeks at our Dallas Headquarters and one week of onsite training in your new center
Pre-opening marketing blitz to drive your sales and reduce ramp time
Grand opening support and guidance from an Outside Sales Manager and Brand Ambassador
Dedicated Business Consultants to assist with business/finances training, marketing and sales, production and staff management
Franchisee Mentor Program to guide you and lend support in every aspect of your business
24-hour web-based learning management system that keep you and your staff up-to-speed and in-the-know in this fast-paced market
Outside sales support can help you train your staff and pitch new business
What our Franchisees Have to Say
"My career prior to FASTSIGNS required a lot of travel, so I was looking for a business opportunity that's open five days a week with regular hours. With FASTSIGNS I get to own my own business, my schedule is flexible and I don't have to work weekends. It's the best of both worlds."
Laurie Sigillito
FASTSIGNS of Durango, CO
"I've always been entrepreneurial by heart, but I liked the structured systems FASTSIGNS has in place. It was important to me that I have an experienced team of professionals behind me that were dedicated to achieving my success. There's no better system if you are looking to get into the business."
Clint Ehlers
FASTSIGNS of Willow Grove, PA