The Time is Right for Planet Beach!
Planet Beach contempo spa, the #1 automated spa franchise in the world and the hottest new concept in the multi-billion dollar wellness and beauty industry, is expanding rapidly across the globe! Join us as we change the way the world rejuvenates.
Look great. Feel great. That's the simple idea behind the success of Planet Beach. Our brand is leading the way in the wellness and beauty industry with our unique automated spa concept.
What is a Contempo Spa?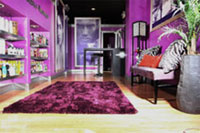 A contempo spa is a unique and innovative spin on traditional day spas. At Planet Beach we have over 20 popular spa services, all in one, convenient neighborhood wellness location.
Customers pay an affordable monthly membership fee for unlimited, fully automated, push-button spa & UV services in a private room without the need of an attendant. These rejuvenating wellness services include massages, facials, hydration treatments, red light treatments, teeth whitening, guided meditation, oxygen therapy, weight management treatments, spray tanning and UV therapy, and a wide range of skincare and nutrition products, all bundled together to help customers achieve their total skincare, wellness and stress relief goals.
Our services fall under three broad categories: RELAX, GLOW and RENEW
RELAX: The top reason people visit a day spa is to get a massage to relieve stress. At Planet Beach, members can choose from a menu of massage options. Massage customers remain clothed and enjoy their treatments in private rooms without the need of an attendant.
RENEW: Stress, pollution and aging all take a toll on how we look and feel. Planet Beach contempo spas have ways to help our members fight back.
GLOW: Our customers achieve a healthy glow and a lifted spirit with UV-free spray tanning or UV therapy services.
Franchise owners offer a variety of services depending on the local market and customer demand. Each service makes our customers look great and feel even better.
Wellness is not a fad. It's a social movement, changing how people across all age groups eat, exercise and spend their time and their money. The customer base is huge and continues to grow.
Planet Beach has something for everyone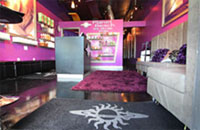 Lower prices mean the average customer can visit a spa several times a week and benefit from a variety of services. "Until Planet Beach there were only day spas for the affluent. Now we have a day spa for everyone. By offering a membership model that costs members a mere US$79 to US$99 a month, customers can receive the same amenities one gets at an elite spa for a fraction of the costs. We believe we have created the future of the day spa industry." - Steve Smith, CEO of Planet Beach Franchising Corporation.
Planet Beach's broad customer base is a modern collage of stay-at-home moms, career-minded professionals, teens and university students, armed services personnel, CEOs, teachers, athletes, and much more.
New Spa Design & Financing Program Offered
In early 2013 Planet Beach launched a brand new spa design to better represent what Planet Beach stands for. Planet Beach is a unique, edgy spa concept offering a relaxing, yet inspiring experience for customers. The re-design encompasses this idea and features a chic, upscale and modern look with deep purples and metallic silver.
To help new and existing spas transition to the new design, Planet Beach has launched a franchise financing program. "Being able to offer financing options to help current and prospective franchise owners is a tremendous growth opportunity for our company," said Stephen Smith, CEO of Planet Beach. "Not many franchise groups are able to support their owners like we are. This program is exciting to our spa owners who are ready to adopt the new design and take our brand to the next level."
We're with you all the way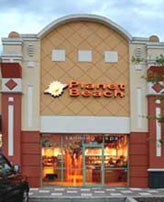 Planet Beach works with franchisees on training and marketing strategy from the very beginning, usually several weeks or even months before the spa opens. Our support staff are with you through each stage of the franchise process, from signing your real estate lease to generating leads for pre-sales, learning the ins and outs of equipment, staffing, products and computer systems. Of course, that's only the beginning. Once the spa opens, support continues to meet ongoing and ever-changing needs.
When their lease has been signed, franchisees attend Planet Beach's Franchisee and Manager School, an intensive training program at corporate headquarters, where they are immersed in a variety of topics, including management, skincare, marketing, customer service and employee relations. When it comes time for the much-anticipated grand opening week of the new spa, an on-site specialist is available to the franchisee for five consecutive days.
"We show our franchisees how to execute our system to its highest potential," says Brandy Gonzalez, Director for Spa Performance at Planet Beach."We have a very successful, proven model already in place. Our franchisees are never alone."
The future is here! Planet Beach spas are thriving in the market and even posted positive revenue gains in the worst of the recent recession.
We have different franchise options to choose from, including salon conversion and area development.


GREAT! WHAT'S MY NEXT STEP?
Find out more about Planet Beach contempo spa by submitting the form below.