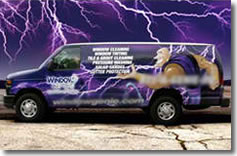 About Us
Window Genie is the innovative leader in Home Services, specializing in window cleaning, window tinting, pressure washing, gutter protection, solar shades and tile & grout cleaning. As a mobile-based business, Window Genie's unique offerings provide multiple revenue streams to our owners and valuable services and products to our residential and commercial customers.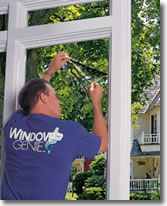 Why Us
What Separates us from Other Service Companies
It's a brand on the rise - #41 in Entrepreneur magazine's top 100 Fastest Growing Franchises and Window Genie also moved up 92 places in the Top 500 list.
Have your technicians do the work while you build the business.
Home based/mobile business with daytime hours.
Repeat customers provide a strong foundation for success.
6 services/revenue streams create value for the customer and added revenue for the business.
Training & Support
Window Genie has a Proven Program That Works!
Sophisticated marketing programs along with a professional image are key to business success. We have assembled an array of marketing pieces allowing you to be as aggressive as you choose. To survive in today's competitive market you must also present yourself as a professional. Window Genie doesn't just train you to be a professional, we'll also assist you and your employees to look their very best, ensuring that your first impression is of quality and one that customers will remember. Some of what we offer:
Business Cards, Stationary and Envelopes
Brochures, Flyers & Postcards
Door Hangers
Ad Slicks
National Direct Mail Program
Uniforms
Signage for vehicles and offices
Printed forms such as invoices, work orders and proposals
Packaged Product for resale
Proprietary software for billing, scheduling and record keeping
Radio scripts
Manufacturer Produced TV Commercials
Proven Internet Marketing strategies
Ideal Candidate
Diverse background, comfortable with managing people, providing great customer service and selling yourself, desire to build and grow a team, self starter, willingness to work 40+ hours/week while ramping up, comfortable getting in front of customers and promoting our business