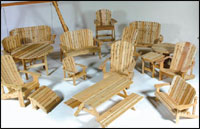 Hot Opportunity
EUREKA Woodworks offers the best of both worlds: a hot opportunity where you can have a thriving business and time to make your own schedule and spend it as you chose. It is an easy-to-operate wood furniture manufacturing business that helps create that perfect work/life balance people seek. EUREKA gives you everything you need to build efficiently and market effectively.
Easy to Operate
EUREKA makes life easy with fool proof assembly. You can build over 40 different designs using Western red cedar, the best choice for outdoor furniture construction. All Producer packages include simple jigs and templates, and an ideal source for just the right wood and hardware. PLUS you get proven strategies about how and where to sell.
A Turn-Key Business
EUREKA offers woodworkers and non-woodworkers alike a turnkey business with a healthy bottom line. Woodworking experience is not a must. EUREKA's initial and ongoing training, plus access to EUREKA's HelpLine, provides a strong foundation on which to build your business.
Not for Men Only
Women make great woodworkers and husband-and-wife teams make a winning and profitable combination: husband builds — wife sells!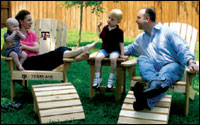 Quality Products
Solid Wood—Solid Building Practices—Solid Customer Satisfaction
Discriminating buyers recognize the long lasting beauty of solid wood furniture and quality construction. Comfort and attention to finishing details are the hallmarks of all EUREKA designs. We are always looking for new products and improved construction methods.
"This was a great career decision. The constant upgrade of jigs, templates, and new products keeps the business exciting and new. It was and still is a great investment and the guys at EUREKA take good care of you seven days a week."–James, EUREKA Producer, Kentucky
"My sales have grown over 20% per year, every year starting in 2007.The product sells itself. If you show it, it will sell.There are several things about the EUREKA Producer Program that make it good.Anytime, I have a question or an issue, EUREKA is available 7 days a week to resolve it. EUREKA is always striving for new products that allow Producers to expand their line of outdoor furniture.The EUREKA Producer Program is a very good investment with no weaknesses."– Rich, EUREKA Producer, Illinois
Growing Markets
New markets open up regularly with NCAA logo furniture
EUREKA is constantly acquiring new licensing agreements with high profile colleges and universities. EUREKA Producers can build garden furniture with full-color college, fraternity and sorority logos. Logo Adirondack chairs are proven good sellers in university towns.
EUREKA Program Highlights And Benefits: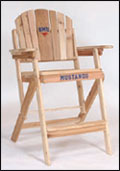 Set you own hours.

Low investment - under $25,000.

No on-going fees.

Sales & marketing materials to help you promote your business.

Your own personalized point-of sale website.

Four-color sales brochures.

Sales & marketing guide.

National website exposure for your business.

EUREKA's FactoryTrac™ Jig & Template System.

High quality handcrafted products produced in record time.

Incredible pricing on Western red cedar lumber and stainless steel hardware.

Newly revamped 200+ page operations manual.

National credit card processing program.

Preferred pricing from tool & equipment suppliers.

And much more.....
EUREKA has built a solid foundation for you. Take advantage of this HOT opportunity and have a successful and rewarding business.
Take the next step now! Tell us where to send you additional ownership information including support and training, financing options, available locations and more by submitting the following Rapid Request form.