Are you looking to find an industry leading franchise business with a strong track record, name recognition and a reputation for providing world-class quality services? Would you like to work with the high profile hospitality industry that must maintain its properties to very high standards to achieve desired customer satisfaction scores, and where your clientele repeats the cleaning cycle periodically to maintain their high scores? Would you like to sell to and service customers in your exclusive territory that have you listed as preferred vendors on an international basis? Would you like to be affiliated with a growing franchise system where you receive extensive support?
Our customer base includes: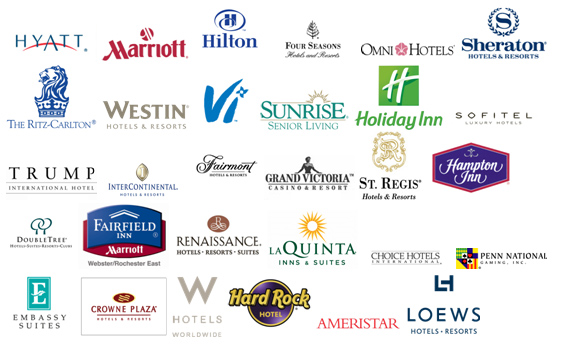 We are looking for high quality people with an entrepreneurial spirit to provide services to a quality growth industry and join our distinguished group of franchisees. We also would like to note some exciting developments for our franchisee group within the past two years: 1) our presence has expanded from our national base to include two international markets and growing; and 2) we are increasing our market share as well as our services, product lines, and customer base.
The Renue Systems Advantage
Thousands of hotel properties nationwide contain very expensive commercial carpeting, drapes, upholstery, tile and grout and marble/stone. These properties face the following problems, all of which Renue Systems is an expert in addressing:
Dirty carpets requiring periodic deep cleaning (more than a vacuum cleaner can do)

Unattractive stains caused by a variety of sources such as bleach, fruit punch, wine or coffee

Smoking rooms needing periodic disinfecting

Upholstery and drapes suffering from normal wear and tear

Tile and grout that has lost its original color

Burns resulting from ironing, cigarettes or chemicals that are unsightly to guests

Odors permeating guestrooms

Dull or scratched marble or other stone in the lobby
Since our founding in 1991 Renue SystemsŪ has become known within the hospitality industry as an authority and trusted partner in assisting our customers with many of their critical needs. Additionally, recent efforts to leverage our cleaning expertise into healthcare are beginning to pay off.
No Previous Experience is Necessary to Join Us
You do not need previous industry experience to qualify to join us. You will receive a turnkey, complete business package which includes the finest equipment and supplies as well as full training, support, and marketing materials. So you can start your business immediately!
Renue Systems offers the entrepreneur a chance to enter into an extremely profitable industry with low start-up costs and potential for a rapid revenue ramp-up. We provide extensive ongoing technical and marketing support. Additionally, you will benefit from our international preferred vendor relationship.
Low start up cost and overhead.
After your initial investment, you'll need little more than a vehicle, telephone and a small team of trained technicians.
Strong customer base.
We have established an impressive list of leading hospitality industry clients, for most of which we are the preferred vendor.
Virtually no start-up downtime.
From chemicals and equipment to brochures and newsletters, you'll have everything you need to potentially become profitable soon after you commence operations.
Unique and specialized business.
Our Rapid Revenue Rejuvenation services comprised of carpet cleaning, hard surface restoration, stain removal, odor control and flood clean-up are top notch and difficult for our customers to duplicate internally.
Extensive training and support.
Renue Systems wants you to succeed, so we provide complete hands-on training, at our corporate offices and in your own area as well as on and ongoing basis.
Limited competition.
There are no others with our scope of services, reputation for quality, geographic footprint and name recognition.
Recognized expertise.
We have developed private label lines of chemicals which we use as part of our proprietary Rapid Revenue Rejuvenation methodologies.
Large and expanding market.
The trend is to increasingly outsource hospitality cleaning to cost-effective experts, driven in part by higher quality demands, more consumer awareness and budgetary constraints.
We are the largest company of our type in the world, and we offer an exceptional opportunity for the entrepreneur.