Own a Proven Retail Franchise in the Exciting Sports Industry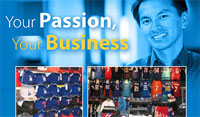 Welcome to Pro Image Sports, a sports fans' dream come true. We are the nation's largest licensed sports apparel gift shop, with franchises coast-to-coast. Die-hard fans migrate to our stores from all over to find their favorite team's gear. If you are one of thousands dying for a chance to work in sports, this is the business opportunity you've been waiting for. Now is the time for you to own a franchise, and work in an environment where you talk, sell, and live sports.
A Winning Concept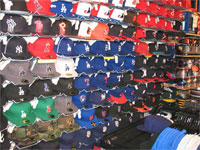 Pro Image Sports Franchises has been the largest sports franchise in the nation for almost 30 years. Our stores have developed a strong following from customers that know we are the place to go for authentic and licensed sporting goods they cannot find anywhere else.

A Fantastic Business to Own
We offer a great option for entrepreneurs looking for a low-risk, steady growth business with a relatively low investment requirement. Here are some of the key reasons why you should join the Pro Image Sports team.
Close to 30 years experience
On-going demand
Constant service and assistance from corporate office
Multiple location strategies
Invest in an Experienced and Supportive Franchise Brand
Pro Image Sports began in June of 1985 in Salt Lake City, Utah with the opening of a licensed sports apparel and accessories kiosk. This marked the beginning of a long and prosperous franchise venture. By October 1986, just one year after selling the first Pro Image Sports franchise, the company was recognized by Venture magazine as one of the fastest growing franchise operations in the United States. In December of 1996 a private investment group consisting of current and past management purchased the Pro Image Sports franchises from Rentrack Corporation. The following year, Pro Image completed the purchase of Prime Sports FanFair, a competing franchise based primarily on the East Coast. This purchase solidified the Pro Image Sports chain as the world's largest sports fan shop, and one of the greatest franchising opportunities in the industry. Today, Pro Image Sports has franchised stores throughout the United States.
Thorough Site Selection Assistance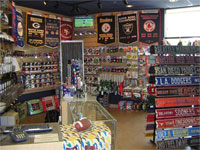 With 22 years of experience, our qualified leasing staff has great relationships with malls everywhere. We work with high traffic regional malls to ensure you the best location and rent package over 7-10 year leases.
No Previous Experience is Necessary with Our Comprehensive Training  
Our versatile corporate management team will provide you with training in every aspect of the business, including buying, operations, and business management. Our relationship with franchisees is ongoing, and we are always a phone call away from offering assistance.
Owner Testimonials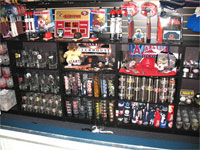 "Pro Image provides it's franchisees with all the tools to help you learn to be successful.  Coaching, store visits and being available for any and all questions or suggestions that you have are just some of the tools available to store owners.  You also have a vast network of other store owners that are available to help you to become a successful owner.  Listen, work hard and follow the road to success and independence."
- Ron & Kathleen Howard - Owners of 1 store in Nevada for 5 years
"I chose Pro Image over several other franchises because of the support from the home office.  The prevailing attitude was that their #1 job was to help me be successful.  I haven't been disappointed.  It doesn't hurt that the royalty fee was far and away the lowest amonth the franchises I looked at."
-  Lloyd Knellor - Owner of 2 stores in Tennessee for 19 years

"I've always been into sports, and this is an exciting business to be in. I still get excited about the product."
- Eddie Rivas - Owner of 7 stores in California for 15 years