Overview
Is this your idea of the perfect franchise opportunity?

A solid, 30-year track record

A well-known, respected brand name

A proven operating system

A creative environment

Target customer is virtually every adult in the country

Doesn't deal in perishables, doesn't have a high risk factor

Not faddish, not seasonal, doesn't fluctuate with the economy

Doesn't require a large staff

You'll spend every day working on interesting new projects with people who've come to you for help in beautifying their homes and office.
If all these advantages appeal to you, as they have to a lot of other people, you'll also be happy to hear that The Great Frame Up will put you right in the middle of the booming art and custom framing industry. In fact, our parent company, Franchise Concepts, Inc., is one of the world's largest, most successful franchisors of art and custom framing retail stores. FCI owns two large national framing franchises in the U. S. – The Great Frame Up® and Deck The Walls® – and the only one in Canada – Framing & Art Centre®.
Products & Services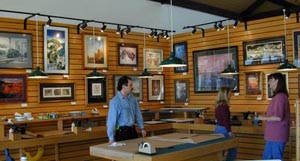 The Great Frame Up was founded in 1971 and our franchise program was initiated in 1975. The stores are located in urban and suburban shopping centers, and specialize in art and custom framing. Each store offers more than 800 custom frame and mat options, plus our unique framing systems.

It's a friendly, inviting, creative atmosphere that you and your customers will both enjoy. We are consistently ranked as a top franchisor in our category by Entrepreneur Franchise 500.
Training & Support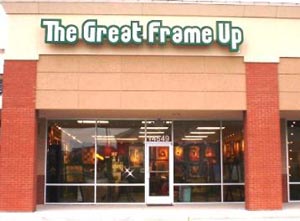 Our experienced startup team will work with you right from the beginning. We'll help evaluate potential sites, help negotiate the best possible lease, and work with you during the entire construction process. We know what it takes to make a store work, and we'll make sure yours gets off on the right foot, right from the beginning.

Our franchisees come from a variety of different backgrounds. Some were experienced business people who recognized the potential of our concept, but had no framing experience. Others were experienced framers who had no idea how to run a successful business. Today, thanks to our intensive training program, which includes a thorough introduction to our state-of-the-art computer systems, our experienced business people have become expert framers, and our framers know exactly how to run an efficient business.

As our Mission Statement says, "The success of our franchisees is our highest priority." We have dedicated professionals working full-time for you in our Franchise Support Center in St Louis, Mo, and trained field support managers as well.

To help you stay current on all aspects of the industry, and to help you get to know your fellow franchisees around the country, we hold valuable seminars, workshops and idea-sharing sessions at our area, regional and national meetings.
Why The Great Frame Up?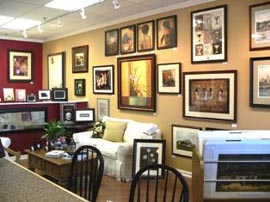 Low startup and low inventory costs

The combined buying power of FCI's 300+ stores

Assistance with site selection, lease negotiation and custom buildout

Comprehensive training programs

Financing assistance

Prime locations still available

Professionally prepared, proven marketing and merchandising programs

Ongoing support programs

Our area, regional and national meetings

Personal satisfaction
Are You a Good Fit for The Great Frame Up?
If you're looking for a rewarding business in a growing industry, a business with a respected brand name, a proven operating system and strong support programs, you won't find a more fun, more creative or more satisfying opportunity than The Great Frame Up.

You can open a new The Great Frame up store for as little as $50,000 to $60,000 down with a total investment of $156,825 to $233,400.  The Great Frame Up is on the SBA registry, which helps speeds up approval, and you can get 70-80% financing.