It's the most recognizable form of direct mail advertising there is - the Valpak® blue envelope. For nearly 40 years, consumers have depended on Valpak® for great values and exciting offers because they know it delivers superb money savings from national advertisers as well as businesses right in their neighborhoods. In addition, Valpak.com, the largest local couponing website on the Internet, promotes more than 10,000 local and national offers for consumers searching for savings. From dining and entertainment to home improvement, supermarkets, dry cleaning and auto services - advertisers span a broad range of industries both in the envelope and online with Valpak®.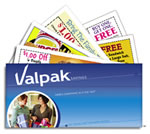 Our 1,800 employees are committed to providing unmatched support for our franchisees in the United States, Canada and Puerto Rico. This means that you have an opportunity to be an entrepreneur while being assured that there is an experienced team of professionals who are there to help you grow your business. Our franchisees are not only our business partners, they are our friends. Most importantly, they are our customers.
Here are just some of the reasons many of our
franchisees have joined our network family
No royalties.
Minimal franchise fee.
Almost 40 years of best practice in direct marketing. As Valpak® franchisees will tell you, "This is a marathon, not a sprint." Many franchisees have been successful for over two decades and can help you with your business plan.
No inventory. We don't have any inventory so you won't have to spend an additional $50,000 on product that just sits on a shelf.
Outstanding training at your location and at our corporate HQ before you start and on a staged basis through your first year. Ongoing training and support are provided through a comprehensive series of special programs, regional meetings and our annual convention at Coupon University.
Sales incentive programs every year for franchisees and sales reps at Coupon University.
Brand awareness. Over 88% of the consumers in areas where Valpak® is mailed are aware of the Valpak® envelope. Eighty eight per cent usually open and examine the ads. We have three times the circulation of our closest direct competitor.
Advertising support. You have probably seen our television promotion on CBS, ABC, FOX or NBC. You might have seen some of our ads in Oprah®, Women's Day®, Redbook®, Rosie®, Living® and Good Housekeeping®.
Join our family!
When you own a Valpak® franchise we don't require you to have any specific experience to partner with us, but a Valpak® franchise is an outstanding business for the entrepreneur who understands direct sales. Valpak® franchisees work with business owners every day assisting them with their advertising and marketing needs by providing measurable advertising to help them grow their business.
We would like to have you consider joining our family!
Complete the short form below and we will tell you much more.