Open Your Windows of Opportunity by Covering them!
Made in the Shade Blinds & More is becoming the window covering franchise of choice in the US and Canada! Why? This exclusive, one-of-a-kind concept is the perfect fit for those who want to own and operate their own window covering business at a fraction of the cost of competing franchises.

The average expense of purchasing a window covering franchise can be in excess of $75,000. And that's just the initial cost! Then, there are monthly royalties, ongoing fees and other operating expenses.
Through Made in the Shade's exclusive program, your expenses are held to a minimum and you will be able to start earning profits immediately through our name brand manufacturers. Imagine having the ability to own and operate your own affordable window covering business. With Made in the Shade, there is a one-time franchise fee of $39,900 and no monthly royalties. Just a one-time franchise fee will provide you with all the benefits, training, resources and ongoing support you need to launch and build your business.
If you ever wanted to own your own business, this may be the opportunity you've been looking for!
Here's why you'll LOVE being part of Made in the Shade
One of the primary benefits of belonging to our buying group is the ability to tap into our deep discounts, volume pricing and proven business model. We have developed long-lasting relationships with our major, brand-name manufacturers. This factor alone is invaluable to you as it provides you with loyal vendors who are dedicated to your growth and continued success. This allows you to obtain quality products at substantially lower prices, which can significantly increase your competitive edge in your designated sales territory.
Each franchise is a home-based operation with minimal overhead and zero inventory to maintain. YOU place all your own orders directly with the manufacturer. Our highly trained support staff is on call for assistance, ensuring your ongoing success. You receive professional training through a comprehensive program given by our expert team and leading manufacturers.
Owner Testimonials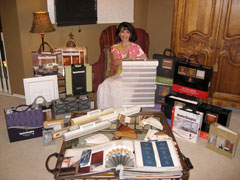 From our name brand manufacturers, you receive a generous window covering sample package, including pricing guides and promotional materials. All of these add to your ability to make it convenient, affordable and easy for your customer to shop at home with Made in the Shade. You also receive step-by-step training manuals, product guides, award winning marketing materials, a comprehensive, customized web site, business templates containing all the documents you will ever need, and other reference tools which provide valuable resources to promote your continued growth, profits and success.
"I am excited to be able to extend this opportunity to those who wish to make a substantial income while working from their home. With our professional training, plus all the resources and tools you will need, the only other ingredients to add are your own enthusiasm and motivation. This will be the best decision you ever made - Made in the Shade, that is!" - Cathy Morse, founder of Made in the Shade
"In addition to the obvious advantages of Made in the Shade, the tools and support continue to exceed my expectations. In speaking with other owners, it truly feels like you are investing in each of us. Your honesty and strong business ethics make me proud to be a part of your team. I strongly recommend your business plan and business opportunity. Please have any and all prospective owners contact me so I can share my enthusiasm and experiences."
Doug Brunner, Made in the Shade of Wisconsin
"This is the ideal home-based business in our opinion and we thank our lucky stars our paths have crossed. One thing we love is that it is NOT a store and we can work from home. We plan our own hours, and we are paid for the products before we order them almost 100% of the time, and the products are here in about 10 days after our order is placed. We have already surpassed our expectations for the first year of business growth in less than 5 months, so thank you so much for all you do for us and all your other owners across North America. We look forward to years of growth and security thanks to Made in the Shade Blinds."
Bruce MacFarlane, Louise Jessop, Made in the Shade Blinds and More Ltd, Halifax, Nova Scotia
Thinking about joining us? Good!
Contact us today for more information.