Be the first in your market in an
80 billion dollar potential industry!
Print pictures and logos for weddings, proms, funerals, corporations and much more.
Speaking Roses is the new way of expression! The combination of flowers with messages creates an innovative method of communication using flowers as the medium, turning this beautiful product into a new industry of expression with a multi-billion dollar market potential. In the same way that cardboard paper was combined with graphics and verse to produce greeting cards in the 1800s, eventually turning them into a multi-billion dollar industry around the world, Speaking Roses will revolutionize the world of greeting communications through the use of flowers.
Imagine being the first in your area and having the opportunity to introduce a groundbreaking new idea!
Speaking Roses creates the ability to print messages, logos, phrases, signatures and icons directly on to the petals of fresh live or silk flowers like roses, tulips, calla lilies, plants and others. Imagine your own Speaking Roses business and receiving everything you need to get started: the equipment, supplies, training and support.
You donít need to be a florist or have any kind of flower experience to become a Speaking Roses licensee.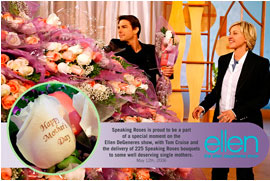 During training in our facilities or through our Speaking Roses Online University, you will receive all the knowledge and lessons we have learned from our years of experience on how to handle and produce this product and become a Speaking Roses licensee in your own area.
Investment starts at $18,900.*
Total investment range: $18,900* to $56,000.
Speaking Roses is already successful in many countries and has been featured in hundreds of media publications all over the world.
With award after award for product ingenuity and endorsements from the likes of Forbes magazine, Tom Cruise, Ellen DeGeneres and countless other news and movie stars, Speaking Roses has topped list after list of Valentine's, Mother's Day and just about every occasion gift list you can think of. Never before has owning a Speaking Roses business been possible until now!
*Specific rules apply to this price. Ask business advisor for details.
Have you ever wished you had been in on the ground floor of a ground-breaking new idea? Well, now you can be, with Speaking Roses!

GREAT! WHAT'S MY NEXT STEP?
Find out more about Speaking Roses by submitting the form below.