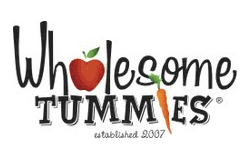 Changing lives and communities!
They say timing is everything. And the time is NOW.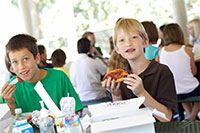 Kids need lunch every school day, and there are 60 Million of them in school right now. That's a lot of mouths to feed! With current predictions that 50% of Americans will be obese by the year 2030 and half of a child's daily calories coming from school, Wholesome Tummies is an exciting and timely solution that is catching the country by storm.

ABOUT US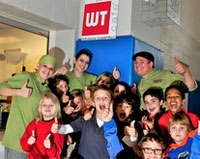 Serving schools from preschool to high school and with or without kitchens, Wholesome Tummies is aggressively going after the US$42 Billion national school lunch market. We currently have 10 locations across the country and seek passionate local entrepreneurs to Join the Movement and grow the Wholesome Tummies brand by making an impact in your local community.
Currently serving over 100 schools, Wholesome Tummies is rapidly expanding across the country. It is our goal to partner with 2,000 schools over the next 5 years. What a great time in our nation's history to get involved in something meaningful and leave a legacy of health for future generations!
Sign up now and you'll be ready to launch your business in the 2013-14 school year. Attend our free weekly webinars. To learn more complete the form below.


BUSINESS MODEL
Wholesome Tummies is the first and only kids' food franchise in the U.S. Our business concept provides the ideal solution for schools ready to make student health a priority: fresh, from scratch, kid-favorite foods prepared daily in local kitchens and distributed directly to schools.

KIDS LOVE OUR FOOD. Most school food programs today are highly processed, canned, and frozen. They seriously lack freshness, nutrition, and taste. That's where we come in. Our menu is fresh, seasonally inspired and delicious, featuring a variety of hot and cold entrees, house-made dressings, soups, and healthy treats. Our Chefs take traditional kid favorites and re-create them using the freshest, healthiest ingredients possible. Even the pickiest eaters like Wholesome Tummies!

SCHOOLS LOVE OUR PROGRAM. We give our partner schools a food program they can be proud of. Our schools benefit from a boost in student enrollment and parent satisfaction that comes with making student health a priority. They also enjoy that we relieve them of the administrative burdens that come with managing a school food program. Our healthy school solution lets them focus on what they do best – building their curriculum and running their school.

PARENTS LOVE THE CONVENIENCE. It is our parent customers who most appreciate our lunch, catering, and vending solutions. Busy juggling home, work, and extracurricular activities, parents are happy to take a needed break from packing meals each school day in favor of fresh, nutritious, and exciting foods served right at school. Our online ordering and payment system makes it easy for parents to order and our customer service makes them happy to stay!
Wholesome Tummies - smart for schools, perfect for parents, and cool for kids.
IDEAL CANDIDATE
To be successful, our concept requires strong entrepreneurial leadership at the local level. Characteristics we look for include:
Passion for the cause
Financially stable
Strong work ethic
Sales-oriented
Customer-focused
Prior management experience
Understand unique demands of parenting
Ingrained in local community
TRAINING AND SUPPORT
We provide qualified owners with all the tools and resources they need to launch and manage the business (so you can focus on growing it!). Our training program includes two full weeks of classroom and hands-on training coupled with webinars, conference calls, and remote training – all designed to get you fully prepared to flawlessly launch your new business. After launch, we offer continued and ongoing support. Your success is our success!
Technology
technology training
sophisticated technology platform
online ordering and payment system
customer and school contact management
customized Point of Sale software
delivery mapping and logistics
Sales & Marketing
sales & marketing training
territory lead generation
targeted sales strategies
marketing collateral and campaigns
branding and advertising tools
social media management
public relations program
Culinary
culinary and operational training
approved menus and ingredients
nutritionist-approved recipes
national supplier partnerships
kitchen equipment list
site selection criteria
lease agreement templates
Management
management and administrative training
recruiting and hiring processes
Quickbooks chart of accounts
proprietary education programs
franchise owner intranet
ongoing training and education
strong corporate support system
WHY CHOOSE WHOLESOME TUMMIES?
Few business opportunities offer the intrinsic satisfaction that comes with doing something you feel good about. With Wholesome Tummies, you can build a business AND make a difference. We are not just another sub, burger, or pizza franchise. We offer our owners something incredibly unique – the ability to fight childhood obesity in their own backyards and restore health to future generations. We consider it a privilege to feed the children in our communities, and if you are motivated by similar passions Wholesome Tummies may be a fit for you!

Additionally, if you seek the freedom of having a school schedule you may also enjoy this lifestyle. Our business follows the school calendar and is therefore shut down on holidays, teacher workdays, and school breaks (think Thanksgiving, Winter Break, and Spring Break off!). With this business, you have the choice of working summer camps or taking the summer off. On the days you are in full production, the hours are reasonable with most kitchen teams working 7 – 3pm, making work-life balance achievable. Unlike most food businesses, with Wholesome Tummies your evenings and weekends belong to you. Not a lot of businesses give you that kind of flexibility. Just think…you may never miss another after-school activity!
TESTIMONIALS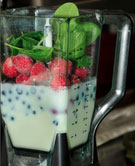 "I started with Wholesome Tummies because I wanted to do something worthwhile. Building this business from scratch and succeeding is what motivates me every day." Judy Gordon, Owner, WT North Atlanta
"I wanted to own my own business my whole life and wanted to do meaningful work at the same time. These two goals are not usually packaged together so for me, Wholesome Tummies has been a life-long dream fulfilled! I can't think of anything better to spend my time and energy on everyday than to deliver healthy lunches to the children of our community. I feel very accomplished each and every night." Amber Taylor, Owner, WT North Orlando
"Being a mom with two picky eaters has always been a challenge for me. I found Wholesome Tummies and am now able to feed not only my children healthy, kid-friendly meals, but hundreds of children daily. It has been such an amazing, rewarding career change for me!" Stephanie Springel, Owner, WT Las Vegas