N-Compass TV - The future in advertising and sales.
Get on the ground floor of the rapidly expanding digital media industry.  With N-Compass TV, you'll be offering affordable advertising and digital media solutions to small businesses on your own Digital Signage network.
Digital signage is the next evolution in advertising, in which digital content is wirelessly transmitted to LCD screens located in high traffic, high dwell-time local businesses like restaurants, bars and gyms.
In addition to selling affordable advertising space on your digital signage network, you'll also be providing other services, such as Facebook business pages, QR code creation and texting integration.
The best part is N-Compass TV makes it easy.  As an authorized dealer, you'll be able to afford whatever lifestyle you are willing to work for.
WHY N-Compass TV?
All encompassing backend support system
Zero cost with unlimited inventory
No brick-and-mortar to open every day
Flexibility to set your own schedule and run your own business
You'll provide affordable advertising solutions for small to mid-size businesses that really works!
With the #1 training and support systems, along with LIVE, REAL TIME interactive network
FREQUENTLY ASKED QUESTIONS
WHAT KIND OF PERSON IS RIGHT FOR THIS OPPORTUNITY?
You are!  You don't need a tech or marketing background to be successful in this industry. You do, however, have to be motivated and excited to build your own business. We partner with entrepreneurs who have a strong desire to succeed and grow a digital signage network in their community.
DO I HAVE TO DESIGN MY OWN ADVERTISEMENTS?
No. N-Compass TV has an experienced creative team that can help you build your client's brand and message. We have ad templates from which you can pick from, and our creative team will put the ad together. Once you sell it, you can leave the rest to us.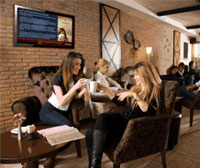 WHAT IS THE INITIAL INVESTMENT FEE?
The investment fee depends on the size and territory you're purchasing, and can start as low as US$15,000. This includes the purchasing of your territory rights, as well as the hardware and tools you'll need to get your dealership started. 50% financing is available for qualified individuals.
HOW WILL N-Compass TV HELP ME GET STARTED?
We'll provide you with the tools that will ignite your business from the start. We'll train you and offer technical support round the clock. We'll also provide template documents for billing, art creation, ad sales and host contracts. In short, if you need assistance with any facet of your business, N-Compass TV will be there to help.
TESTIMONIALS
"The service, guidance and help provided - especially at the beginning when needed most -even surpassed my expectations"
-Pat Ryan of Long Island NY
"If you work, this model will work for you!!!  I have been operating and working hard for a little over a year now and have over 30 units in the field, and I am building myself an empire.  I am starting now to build and develop real wealth"
-Larry Salice of Smithtown, NY
"With the services, help and immediate responses that N-Compass TV provides, they have made it so easy for me to succeed and grow.  Thank you, N-Compass TV!"
-Wayne Pils of Elizabeth Town, KY
"When I learned that I could sell Facebook business pages and QR codes I made $2,500 in two weeks by calling on existing customers."
- Jeff Kline, Sales, Full Throttle Media
ALL ENCOMPASSING DEALERSHIP PACKAGE
Eight component players
On site, 3 day training program with an existing dealer
Operations manual
Sales strategies
Network management
Ad creation services, media marketing kits
Templates for your business
Website and Facebook page for your dealership
Logo design for your business
QR Code for your dealership
Hosts and Sales contracts
Dealer support 24/7
Packages starting as low as $15,000
OVERVIEW
Investment as low as $15,000 – includes purchase of territory rights and all the tools and hardware you'll need to get your dealership started.
Financing available.
We provide onsite and online training, as well all the materials and services you'll need to get your dealership off and running. This includes marketing materials, sale strategies, dealer support, ad creation services, network management, website and logo creation, and much more!