Lisa Kornstein, owner and buyer of Scout & Molly's Inc. has loved clothes since childhood but never envisioned herself working in fashion. While attending graduate school in South Carolina, she worked part time at a boutique, where she fell in love with selling. Lisa dreamed of starting her own store, a boutique where women would feel comfortable shopping. A place where they didn't have to worry about what they were wearing when they walked in the store. She envisioned a place where a customer would feel like she was in her best friends closet. A place where they could always count on a friendly face and an honest opinion.
In the spring of 2002, after dreaming about a shop of her own, Lisa finally got up the nerve, took a leap of faith, and opened her boutique Scout & Molly's. The Scout & Molly's brand was fresh and people quickly caught on. Customers started to mention they wished they could open their own Scout & Molly's so Lisa took another leap and decided to license out her business so that she could grow the brand into other markets. Today there are five Scout & Molly's locations: In Raleigh NC, Charlotte NC, Cary NC and most recently in historic Columbus, GA. Each boutique stays true to Lisa's original vision, carrying fabulous clothes surrounded by a warm, fun atmosphere. Lisa and her team are excited to be able to offer their amazing sense of style to you anytime day or night via www.scoutandmollys.com online store!
You are guaranteed to have exceptional and personalized customer service at Scout & Molly's. Lisa and her team love what they do and make a point to have fun doing it. Whether you're searching for that perfect pair of jeans or a dress for an upcoming event, the staff at Scout & Molly's will make the experience fun and undoubtedly productive. There are always new styles weekly to choose from so be sure to check the store and the site often. Lisa also offers in house closet consultations as well as trunk shows where she brings the store to you. If you don't live close to a Scout & Molly's and you'd like to host a trunk show in your town, just email lisa@scoutandmollys.com to set it up! Each store also hosts private parties and fundraisers for many organizations so just ask if you'd like to plan a girls night out or any other type of private event at one of our stores.
The Scout & Molly's of Raleigh crew at their annual MS Fashion Show Fundraiser Gala, Lisa as a guest judge for a charity fashion show, Lava making sure Lisa did ok ordering this Badgley Mischka gown, Parker and Lisa on a buying trip in Las Vegas.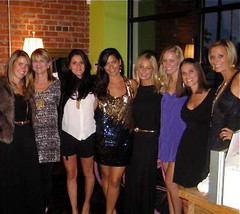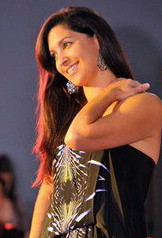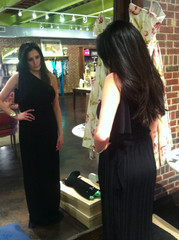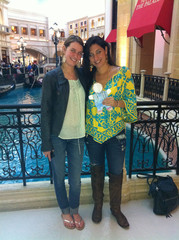 Who are Scout & Molly?
Lisa named the store after her two labrador retrievers, her first babies. You'll find a portrait of Scout and Molly in the Raleigh boutique. In keeping with Lisa's affection for her dogs, Scout & Molly's stores are dog-friendly and support Saving Grace Animal Rescue as well as the Mid Atlantic Great Dane Rescue League, both charities help puppies find loving homes. The crew pictured below: Scout (passed away 2012), Molly (passed away 2011), Stella (6 yrs. old), Banx (5 months old in pic) with Lisa's adorable children Jack and Calyn.