Naturals2Go
Franchise Fee: $19,995
Royalty: 0
Cash Investment: $19,995
Total Investment: $19,995 - $125,995

Founded: 1986
Franchised: 1987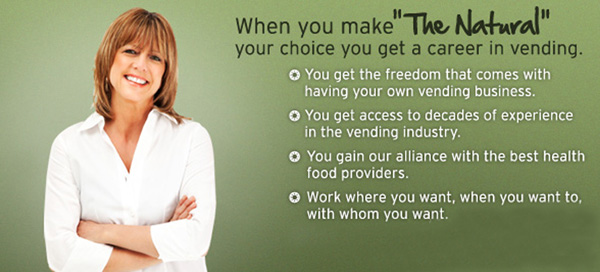 Why Naturals2GO healthy vending? – It's SIMPLE
Cash Business, NO Receivables

Flexible Schedule, Part or Full time

Great Tax Benefits
The Naturals2GO Market – It's SIMPLE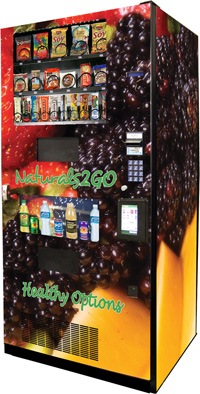 Huge existing market - People Eat

They Know what a vending machine is

Consumable products creates repeat customers

Price Points – Everyone can afford to be your custom

Demand for Healthy Options is driving the growth in Healthy Vending
Operating a Naturals2GO the Business – It's SIMPLE
Keep the machines full of product

Take the money out
Details – We make it SIMPLE!
Product Knowledge

Machine Training

Finding Locations

Training and Support
Naturals2GO is leading the way in the growing health snack and beverage vending category. 26 years of industry experience, 2012 Business Opportunity of the Year.
Dedicated to the success of the Independent operator.

Start your vending machine ownership career with a built-in reputation that consumers trust and respect - offering your customers a wholesome snack alternative today, so they can enjoy a healthier tomorrow.

Whether you're looking to replace your full-time income or just earn a little extra cash, the Naturals2Go healthy vending system is designed to help you enjoy the benefits of:


Being Your Own Boss

Utilizing the Latest Technology

Flexible Schedule

Full Time or Part Time

Cash Business – No receivables

Scalable program to fit every investment budget

Creating numerous streams of Income

Simple Concept with consistent cash flow

NO Employees
And if you're new to the idea of starting your own business, don't worry. We'll help you along the way.


More Reasons for Choosing Naturals2GO: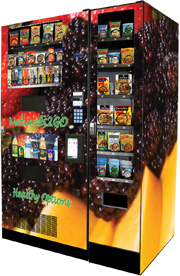 N.E.A.T. - The Naturals2Go Electronic Automated Business Tool Kit

Online management information system

Custom Website - including hosting

Vend Tech University – connecting you to online support

Lifetime training and support, In-person and online

Comprehensive 2-Day Hands-on training seminar with investment

One on One Follow up Business Coaching

Product Selection Guidelines for meeting Healthy Option Request

Location Placement Program

Wholesale Buying Network
Investment levels
Our programs are scalable and fit every investment level. Whether you are looking to invest $18,000 or $300,000 we can customize a program to fit your needs, wants and goals.


Why Naturals2GO?
From the get go, you will benefit from a solid reputation that consumers already trust and respect. We are dedicated to helping you and your family achieve your financial goals.


Why Wait?
WE have a simple no obligation process for you to becoming fully informed. Simply fill out the form below and let Natural2GO assist you in gathering the details so you can determine if the Naturals2GO business program is fit for you, your family, your future and your needs. Naturals2Go can help you Jump-START your career in vending today!