Surface Specialists® is among the largest bathtub refinishing franchise providers of surface restoration services in North America. Since 1981, our bathroom remodeling Franchisees have been providing real value to their clients, and enjoying huge opportunities for profitable growth.
Our bathtub refinishing franchise locations are trained to provide bathtub refinishing and so much more! Most bathtub refinishing franchises only teach refinishing. Why put all your eggs in one basket?
Surface Specialists® trains our bathtub refinishing franchises how to complete a multitude of different bathroom remodeling services so you don't have to rely on only one service for your source of income. Some additional services include repairs, acrylic bathliner installation and tub to shower conversions.
Bathtub Refinishing Franchise Industry
Today's homeowners are making repairs rather than buying brand new - and as a Surface Specialists® bathtub refinishing franchisee, you'll be there to help them, with a comprehensive product and service offering that enables them to save money while they beautify their homes.
Provide repairs and refinishing of bath and kitchen surfaces
Enable clients to save money over complete remodeling options
Enormous market -- over 95 million homes in America
Additional channels include:

Apartments and rental properties
Hotels, motels, resorts
Retirement communities
A Home Based Franchise Opportunity: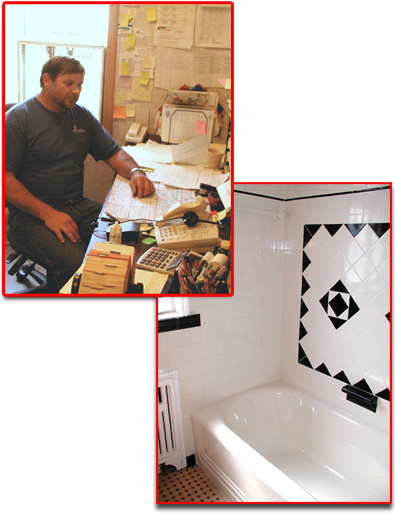 How many bathtubs and sinks are there in the United States? Hundreds of millions. And not one of them is going to last forever.
Surface Specialists® lets you take advantage of this opportunity, with the most comprehensive product and service offering in the industry while working from your home.
Not dependent on 1 market aspect for your income (most franchises in our industry offer bathtub refinishing or tubliners - we do it all)
Home based franchise opportunity (since you provide services and work at home locations; you do not need a storefront)
Proven name, products and techniques
Low cost franchise fee - MUCH lower than competitors
Our bathtub refinishing franchises have been business since 1981
Dan Kaplan/Franchisor has over 30 years experience in the industry and over 20 years specifically with Surface Specialists® in running a local franchise
Bathtub Refinishing Franchise Support
What can you expect as a Surface Specialists® franchisee?
We pledge to deliver the most comprehensive support in the industry.
Two-week comprehensive training program
24-hour access to corporate
Best practices support from your network of Surface Specialists® franchisees
Continuous research and development of new products and services
Franchise Marketing/PR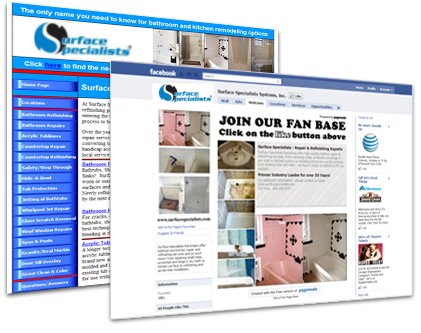 When you become a Surface Specialists® franchisee you invest in more than a business - you benefit from an attractive brand that helps draw clients to you.
Your own customizable page within the corporate Web site
Four-color brochures and flyers
Logos and customizable ads, delivered on CD
Comprehensive Marketing Library
Lead generation through social media networks
Testimonials from some of our Bathtub Refinishing Franchises
"There have been some ups and downs in getting going, but it has gone very well for us, and the guidance has always been available and continually gets better as the Surface Specialists® System has grown. Surface Specialists® is a very well respected service in this industry and is always striving to improve our methods, and keep up with the latest and best ways of doing our jobs."
- Bob & Marsha Murphy
Surface Specialists® of South Central Minnesota, Inc.
"Obviously, our background in the construction /remodeling business was a plus for us, but we still had no experience with any of the diverse services that Surface Specialists® offers. In contrast to the remodeling business which can drag on for months with each job. We were drawn to the structure of this business, in that you can satisfy a customer in a very short time, "be the hero" then move on to help your next customer."
-Boyce & Carol Cole
Surface Specialists® of Myrtle Beach, SC
"I didn't have a construction background, formal business skills, or anything that related to this industry but it has been working for me. Within the first month of being in business I was showing a profit!"
-Wes Colerider
Surface Specialists® of Charleston, SC