About Two Maids & A Mop™
Two Maids & A Mop is a residential housekeeping company headquartered in Birmingham, Alabama. The nation's fastest growing residential cleaning company and an Inc. 5000 company, the business uses a proprietary "Pay for Performance" compensation scale, where employees' wages are based on customer feedback, as opposed to number of houses cleaned. Two Maids & A Mop was named the 2012 National Maid Service of the Year by Cleaning For A Reason, a nationwide charitable foundation that provides free house cleaning services to women undergoing cancer treatment. There are 13 current locations spanning Alabama, Tennessee, North Carolina, Georgia and Florida. The first franchise location of the brand is located in Tampa, Florida.

Two Maids & A Mop offers immediate cleaning service franchise opportunities across all 48 U.S. states. Contact the home office today to learn how you can make BIG money by owning and operating your very own Two Maids & A Mop office location!
Company History
Two Maids & A Mop™ opened its doors more than ten years ago in Pensacola, FL. It quickly grew to become the area's most trusted and respected professional maid service. Since its inception, the business has successfully built twelve company-owned locations across five southeastern states. In 2013, Inc. Magazine named Two Maids & A Mop the fastest growing cleaning company in America.

It's been an amazing ten years of success for Two Maids & A Mop™. But the next chapter of growth is even more exciting because the company has recently decided to offer franchising opportunities across all 48 states. You can now enjoy the same type of success that their company has been keeping a secret for the last ten years!
THE COMPLETE EXPERIENCE™
TWO MAIDS & A MOP™ has developed a unique, proprietary lead generation and customer retention process that is unparalleled within the consumer services sector. The process is comprised of six distinct phases of growth; effectively nurturing a relationship that evolves a qualified prospect into an actual brand ambassador. It's called THE COMPLETE EXPERIENCE™ and the process defines TWO MAIDS & A MOP™.
Our Competitive Advantage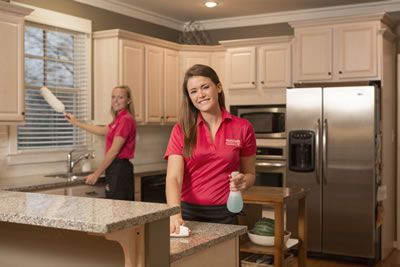 TWO MAIDS & A MOP™ offers a unique selling proposition that has long been admired within the residential cleaning industry. People from almost every serviced based industry have worked extremely hard to determine the true inner workings of the famous TWO MAIDS & A MOP™ Pay for Performance Compensation Plan.
What makes the Pay for Performance Plan so great and how does it work? In a nutshell, the Plan makes an owner out of every single one of our Team Members. Basically, a customer will rate their service on a simple scale from 1-10. The rating–and that rating alone–directly determines the compensation level paid to the two Team Members responsible for cleaning the home. Customer feedback is the only factor utilized when determining Team Member compensation. The Plan revolutionized the cleaning industry and has always created significant buzz for our company. Over the years, hundreds of companies have reached out to us with offers to actually purchase the Plan from our company. People from all over the world have contacted us with questions about the Plan. Copycat models of the Plan have popped up and disappeared just as quickly. And most importantly, thousands of customers have hired us primarily because of the Plan.
The Plan provides our local offices with a self-policing internal motivational strategy for its Team Members. And of course, the Plan provides our local offices with an outstanding marketing tool that essentially converts all qualified leads into paying customers.
By franchising, you will have access to this plan and will be able to leverage its internal and external benefits on the first day of your business' operation.