"A 30 year old franchise system of collaboration and participation -helping one another grow successfully, that's what defines our "Ohana and franchisees!" ~Michael Haith, CEO
Since our founding in 1982, Maui Wowi Hawaiian has grown to over 450 franchises around the world and opportunities are still available for you!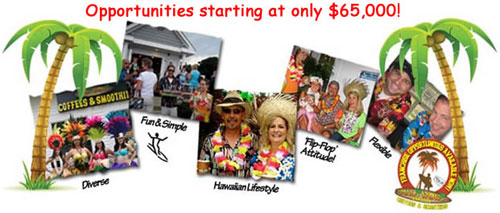 Why Maui Wowi Franchise?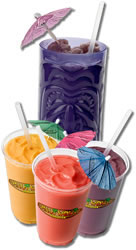 Because now is the time to Live The Dream... Live a Hawaiian lifestyle with a Flip-Flop Attitude. Aren't you ready to own a business that is Flexible, Fun, Diverse, and Simple?!?
"We work hard, but while wearing flip-flops, a Hawaiian shirt and doing something we love!"
~Chris Shaw
"The 'Aloha Spirit' is contagious. It is all about creating happy energy and helping people enjoy life!"
~Joely Fabritsis
"Maui Wowi has a laid back Hawaiian vibe, amazing products, and they know how to have a heck of a good time!"
~Jennifer Hernandez
"Because of the Ka'annapali cart we felt Maui Wowi Hawaiian offered a flexible business model that would allow us to expand and grow. We are excited to spread the 'Aloha Spirit' to the surrounding community!""
~ Ray and Pat Powers
Training and support
From the beginning we will be with you through your journey with Maui Wowi. We provide you with unparalleled training and support. This includes:
Franchise Advisory Committees
Mentoring and Launch Programs
Round The Clock Help Desk to Answer All Your Questions

Testimonials
"The best part of owning a Maui Wowi Hawaiian is the amazing training and support we received -that was priceless!"
~Michelle Barton
"I was really impressed with the Mainland support and how they treated me like family or 'Ohana. They wanted to take care of me. I could feel it. I was in the right place."
~ Kathy Rowald
"Rhonda and I are truly grateful to everyone at the Mainland for all the help they have given us in opening our first (of many!) stores!
~Larry & Rhonda Jones
"The time was now to do something for me and my son that we could both enjoy. Maui Wowi Hawaiian offers a fun and flexible business model to do just that. The icing on the cake is that we love Hawaiian coffee and smoothies!"
~ Stephen Ater