Business Features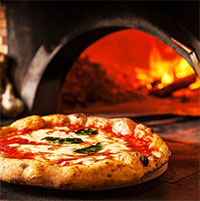 The MidiCi vision is to make the world a friendlier place. The MidiCi mission is to bring friends together. With a love for people at the core of its conception, MidiCi Pizza serves authentic Neapolitan Pizza as the most delicious excuse to get together. Believing a meal is better when shared with your friends circled around the dinner table, the menu offers something for everyone, it ranges from the classic Margherita Pizza, along with a wide selection of fresh meats, cheeses and vegetables to make your own pizza and salad. Together, the assembly line and bar, also known as the Heart for its shape and functions, put on a real show with the two sculptural ovens from Naples, the colorful display of ingredients and each station mastered with pride by pizzaiolos (pizza makers) and baristas (coffee makers).
The high end quality of its design created by acclaimed architect Sam Marshall combined with the affordability of the menu, including wines, makes it an unrivaled coveted spot to be social.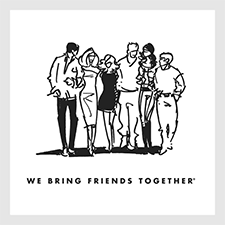 And if MidiCi, pronounced Mee-Dee-Chee in Italian, means You tell me!, a double entendre for (1) its customization approach to the pizza and (2) its social approach to the interaction of people and bringing friends together… More than anything, MidiCi is inspired by the belief that people are the best thing that can happen to anyone, and its mission is to bring friends together. MidiCi is led by CEO Amit Kleinberger, whom was recognized by Forbes on the list of Americas most promising CEOs, leading Menchie's from 1 store to over 500 open stores in just 8 years.
Why MidiCi?
The only fast casual pizza that is going to disrupt the existing models, as it not about the pizza, rather the friendships created by spending time at MidiCi. The MidiCi brand positioning was developed for two years by Menchie's CEO and team, marketing specialists, and is poised to capture the market quickly with pull demand vs. push demand.
Franchisee friendly organizational philosophy. MidiCi's mission statement is "we bring friends together." Happy franchisees make happy guests.
Fun to run. Make money by bringing friends together. While other chains serve pizza, MidiCi brings friends together.
Serve high quality, healthier products than regular pizza and large chains.

Guest value proposition: Inexpensive, fun family day or night out with your friends. Unlike some businesses like auto-repair, guests choose to be there.
Franchisees maintain high profile in the community. Franchisees are active in the local chambers of commerce, schools, sports leagues, church etc.

Unique guest experience where guest is in charge. The Guest is the "Pizza Maker" and is empowered to get exactly what they want, how they want it. Eliminates guest complaints.

High volume stores. High margins. Strong Unit-level economics.

No hidden charges or hidden product mark ups. Franchisee benefits from national purchasing power and keeps the savings.

Simple restaurant. Easy to run and to manage.

Scalable. Quick ramp up + Easy to run + Easy to learn = Franchisees' can grow rapidly into multiple units. Most franchisees have already invested in multiple units.

Work-life balance. The strong unit level economics allow franchisees to make money by managing managers.

Quick ramp up.

Cash business. No accounts receivables.

Little inventory. Not tying up your cash with inventory gathering dust on shelves.

Recognizable Brand.

Desirable footprint. Stores range from 2200-3800 sq ft).

Tight cost controls. Little inventory. Only two cash registers.

Sleek and social space. A harmony by design. Intuitive space, flow and function.
A place where people can come to have a cup of coffee, a pizza, a salad, an appetizer, a dessert, or simply a glass of wine or beer.
Scenic point from anywhere in the restaurant
Personalization/Customization. You tell me how you want your pizza!

An environment where people want to stay and socialize – it's about friendships.
World-class branding. World-class design
The Magic! Pizza in 90 seconds in wood fired ovens.

Superior product - Made from high quality ingredients. Authentic Neapolitan pizza, a seal that needs to meet rigorous gastronomic rules. Garnish is made of pure ingredients.
MidiCi serves THE ORIGINAL pizza, True and authentic Neapolitan Pizza.
Dough made from simple ingredients. No additives. Only 5 simple natural ingredients. It is a better for you product. A Margherita pizza is only approx. 850 calories.
Aggressive business lunch program designed for urban environments.
Executive Chef - Head of the Verace Pizza Napoletana in North America.
Executive Chef - Head of the Associazione Pizzaiuoli Napoletani.
Coffee program with freshly wood roasted coffee made by and for MidiCi in Seattle and packaged in MidiCi branding.
Wood ovens imported from Naples.
Kitchen is the center stage – and has a unique design called "the heart"
Sophisticated design – "fast fine category" – hybrid of fast casual prices and type serving, and a fine dining design…..
Unique proprietary design made by famed Architect Sam Marshall– known for LA's most successful restaurants.
In summary, the MidiCi's winning formula is:
Create a recognizable brand

Serve a great product

Offer a unique guest experience

Maintain an energetic store atmosphere

Manage enthusiastic team members

Get involved in the community

Create raving fans for guests

This translates into high volume stores with great ROI

Allows franchisees to expand into other communities

Build wealth and better quality of life for FranNet clients and their families.