About Us
Store By Store, We've Built a Solid Foundation
Metal Supermarkets is the world's largest small quantity metal distributor. Our metal distribution centers specialize in the distribution of all types, shapes, sizes and grades of metal. We stock and sell aluminum, hot- and cold-rolled steel, stainless steel, brass and copper bar in bar, tubes, channel and sheet-processed to our customers' exact specifications, ready fast with no minimum order!
We Provide Solutions for Our Customers
Our focus is to provide metal supply solutions for maintenance and repair departments of manufacturers and processors, distributors, the military and other government agencies, educational institutions and related facilities as well as homeowners, hobbyists, machine shops, tool and die makers and a wide variety of other companies and institutions.
Customers who purchase from us value and benefit from our key differentials, including:
"Cut to size" metal
Friendly and knowledgeable staff
Fast delivery
Sourcing of non-stock and "hard to find" items
No required minimum order size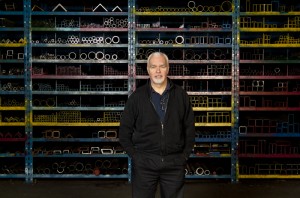 We pride ourselves on the long-term and caring relationships we build with our customers. We do this by operating as a franchised business operated by dedicated owners who care.
What We Do
Metal Supermarkets®, The Convenience Stores for Metal, is the world's largest supplier of small quantity metals.
With a network of 72 stores in four countries, we carry most standard grades, sizes and shapes of:
Aluminum
Steel
Stainless Steel
Brass
Copper
If we don't have what you need, we'll source the material for you!
Buy Only What You Need
Customers can buy whatever size or type of metal they need, quickly and easily, with no minimum order size. Orders can be cut to size while customers wait, or they can call ahead and have goods delivered, fast! There's no need to buy full lengths. Customers simply purchase the size and shape they want.
Not sure what you need? Our friendly, knowledgeable associates are ready to help.
More Than Metal
Many of our stores also offer value-added services, such as:
Hole-punching
Shearing
Bending
Who Buys From Metal Supermarkets®
We serve over 60,000 customers, including:
Manufacturers
Food processors
Machine shops
Tool and die shops
Military and government departments
Hospitals
Hotels
Universities
Schools
Homeowners
Artists
Hobbyists
Your Opportunity
As a Metal Supermarkets franchisee, you will supply industrial metals cut to any size, delivered from your extensive stocks, with no minimum order. The Metal Supermarkets business truly occupies a niche in the market, providing exactly what the customer wants, when they want it and how they want it. Through the implementation of our business model and system, you will provide businesses and individual customers with unparalleled service.
We offer a proven business system reinforced by tangible assets to permit you to realize your personal, financial and lifestyle objectives.
Strong System-Wide Earning Potential
Metal Supermarkets' franchise owners are motivated individuals who strive to reach the goals they set for themselves. Our philosophy is about continuous improvement. That's what our Metal Supermarkets franchisees strive for, and that's what they do. In fact, while most metal-related businesses saw a large sales and volume decrease from 2007 to 2010, Metal Supermarkets' same-store sales remained relatively consistent. The average franchisee sales volume for a U.S. Metal Supermarkets business was $1,233,000 in 2011. Strong sales coupled with strong retail margins makes for a winning combination. That type of earning potential is worth striving for.
Are You Up For The Challenge?
We are looking for motivated individuals who are looking to be part of a great business with unlimited potential. We are seeking franchisees who are prepared to take their financial future into their own hands, and want to see and reap the rewards of their hard work. We are looking for people who have the ability to set goals and who strive to achieve them. We are looking for people who are able to learn and execute a precise business plan and implement our sound business strategy. We are looking for people that can lead and motivate employees to achieve short- and long-term goals. To be a successful Metal Supermarkets franchisee, you must be ready to invest in yourself.
Financial Requirements:
• Net Worth: $450,000
• Total Investment: $275,000 to $350,000
* Qualified U.S. military veterans may be able to take advantage of our participation in VetFran. We offer qualified veterans a $5,000 reduction off the initial franchise fee.