Join the Fastest Growing Segment in Beauty
About Us
From the moment Deka Lash was created, it was more than a brand; it was a vision to bring inspiration, confidence and a lasting sense of beauty to generations of women. Deka Lash is dedicated to developing the best products as well as providing a special experience that can't be found elsewhere.
Deka Lash is evolving the beauty industry, combining an alluring and energetic vibe with a focus around ultimate customer satisfaction. This nationwide company is one of the fastest growing eyelash extension brands on the market.
Our Menu
Choose from Classic Lashes or Volume Lashes
Volume Eyelash Extensions
Our specially developed volume technique allow us to apply multiple extensions to one isolated natural lash. The result? A full, lush lash line that appears fluffy and soft and maintains the health and safety of our client's natural lashes.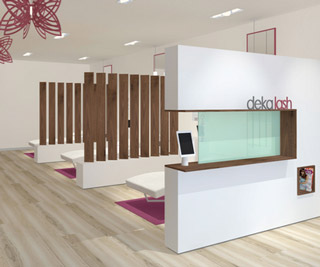 Classic Eyelash Extensions
Our eyelash extensions are extremely lightweight, this makes them so comfortable you forget you have them. The eyelash extensions are varying lengths and thicknesses and Deka Lash consultants work with you to decide which style works best for your eye shape and personal style.
Eyebrows
No two eyebrows are created equal - and shouldn't be treated that way. Deka Lash waxologists work with you to decide which brow shape works best for your face shape and personal style.
Great opportunity for semi absentee, multi unit and manager run. Fast ramp up!