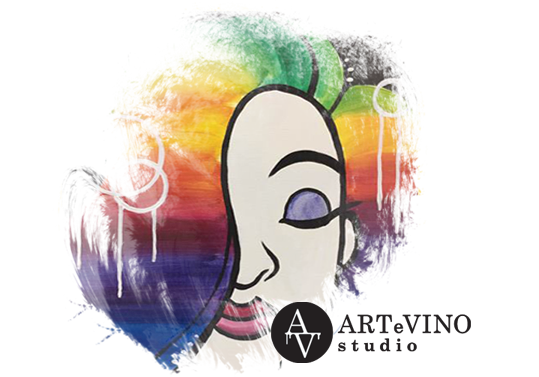 ArteVino Studio
ArteVino is a premier art and wine studio for BYOB art classes, private parties, corporate events and team building activities. ArteVino artists guide our clients through the creative process and help them complete artwork during the class session.
In addition to adult offerings, we have developed summer and after school camps for children ages 7 and up as well as themed birthday parties that are perfect for kids and adults who want to have fun while celebrating their special day.
Owners who invest in our art studio franchise have access to a wide variety of classes, artistic creations, parties and events to fill your studio with guests from morning till evening making the most of your retail studio space and your business investment.
History
When we decided to open our Hoboken studio, the developing neighborhood welcomed us with open arms. We had created an outlet for self-expression, a place to go with friends, host a party or meet up with co-workers. Since 2012, the demand for our studio space kept growing and soon we had expanded the brand into 5 more locations in New Jersey.
By 2017, when the franchise opportunity was offered for the first time, studios were operating in Hoboken, Cranford, Millburn, Montclair, Freehold and Metuchen. People kept asking us when they could open their own studio. Now that opportunity is here and we are ready to support our franchise owners, while they realize their dream of owning their own business.
Our Mission
ArteVino Studio's mission is to create a comfortable and casual environment where attendees can enjoy creating art regardless of their artistic level, background or age. We believe artistic self-expression is a great way to nurture a healthy outlet and decompress from stress of daily life and our goal is to provide a friendly and affordable environment for anyone to experience this.
We are looking for owner candidates who believe in our mission and want to be a part of their local community, owning a studio of their own.
Why ArteVino
ArteVino is growing!!!
We are now looking for dedicated partners willing to work with us to open our next location. We will help you to start up your brand new ArteVino Studio with significant lower investment than our competitors. Our dedication and support is unique in the industry. We have now franchising option available. Either if you are a local artist or an entrepreneur looking to start up your own business, we will work with you to find the solution which fits best your goals.
Why Invest
Recognized brand – presence on social media with high ratings and excellent reviews. Known for excellence in customer service and quality of service. ArteVino has been featured on Impratical Jokers (TruTV) multiple times.
Efficient operating model – streamlined processes documented in manuals and written procedures including automated email templates.
Handpicked painting inventory – paintings expertly selected by our artist community and vetted by our customers.
Integrated marketing strategy – including different marketing campaign types tied to the studio life cycle leveraging multiple channels both offline and online (e.g., social media, newspaper, PR).
Customer insight – In depth analytics, customer segmentation and profiling based on our proprietary customer data.
Access to preferred suppliers and shared resources – we have negotiated wholesale prices for supplies based on volume for our owners.
Continuous training and support – initial "on-boarding" training workshops and on-going support.
Innovative proprietary technology – website, turnkey reservation and event management system, marketing campaign system including discount code, gift certificate and newsletter management capabilities.
Corporate Social Responsibility – annual target for fundraising and donation activities to ensure we give back to the community!
Our investment range is shown on the table below. The co-founders opened and launched 6 affiliate ArteVino studios and have proven the concept that our uniquely branded and designed paint and sip art studio model works. We believe that our customers enjoy their time with us and we enjoy seeing repeat customers, corporate clients and birthday parties in our studios.
When you invest in yourself and open an ArteVino Studio, you will have our full support to help you get from pre-opening through to your grand opening. Our training program is conducted in the Hoboken and New Jersey Area studios over the course of 5 days and includes not only operations but also marketing, financial management and how to develop the studio. After that, we offer ongoing support with supplier agreements, on-site visits, phone calls, conferences and video chat.
Start up costs

$99,800 to $123,850

Includes the $25,000 franchise fee

On-going Royalty

5.75%

Reduced to 5.25% as sales exceed $250,000 annually

Territory

5 mile radius or 150,000

Whichever is less
Our franchise development team is excited to hear from you to see if you have what it takes to own an ArteVino studio!
For more information on becoming a part of the ArteVino community of paint and sip art studio franchises fill out the form below.