Foot Solutions
Franchise Fee: $32,500
Royalty: 5%
Cash Investment: $60,000
Total Investment: $196,000 - $237,000

Founded: 2000
Franchised: 2000
Caring For Feet Is Big Business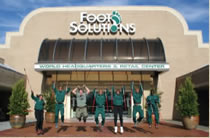 Foot Solutions offers an exciting new concept that focuses on health/wellness and meets the demands and needs of a rapidly growing segment of our population (the forty and older market). At FOOT SOLUTIONS we provide a much-needed service to the rapidly growing percentage of people who experience sore and tired feet. We specialize in computer foot scanning to make custom insoles and orthotics and also to ensure the perfect fit along with a number of items that help feet in every way.

What Exactly Does A Foot Care Center Do?
We provide solutions for people with foot or related problems. We reduce, and in many cases, eliminate foot pain and other associated symptoms such as knee and lower back pain.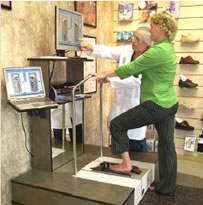 High-tech computer foot scanning equipment is used to produce a complete line of custom shoe inserts and orthotics. We offer an analysis of foot problems and how problems can be minimized with properly fitted shoes.

Customers come to us with problems. We get referrals from physicians, podiatrist, chiropractors, massage therapists, sporting clubs, athletic coaches, but mostly from satisfied customers.

Our inventory is focused on key, fast moving sizes. A Central warehouse provides quick service for the hard-to-fit people. Correctly fitted shoes are the most important part of good foot health. This is where Foot Solutions focuses their training, marketing and support. Through computer scanning and biomechanical balancing, customers are shown how they can increase their comfort, reduce and eliminate pain, and improve their balance. Many customers notice a significant difference in their well-being after just one day.

Training
At Foot Solutions we realize that your success is our success! Because we understand this we have worked hard to create an extensive training and support program that will insure that every franchisee is equipped with the knowledge and skills necessary to succeed. Every new franchisee will complete our program which includes: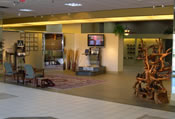 2-1/2 weeks at our corporate training center
One week in an operational store
Training on the operation and techniques of the computer scanning will be on location at the system manufacturer's technical training facility.
Training will continue at your location during your store opening. Continuing support through field representatives and associates will always be available to you as it is needed.

Franchise Support
Protected Territory
Assistance in Preparing Loan Portfolio
Foot Solutions Business Management System, Training, and Support
Training at corporate centers and in the field
Record-Keeping Guidelines
Start-Up Inventory Product and Tool Guidelines
On-Line Support Via Associates web-Area
Start-Up and Management Support
Lease Negotiation Assistance
And More...
Foot Solutions offers each franchisee a protected exclusive territory with a number of ways to reach the market around them. Find out how to obtain one today!

Ready to take control of your future?