Touching Hearts at Home is dedicated
The success of our franchisees and the care they provide are the cornerstones of our success. Our franchise partners receive the training and support they need to be successful. Enriching the lives of those we serve is our passion. Delivering on the promise of quality care ensures a rewarding and successful partnership for all.
A vision for the future serving our clients today
Touching Hearts at Home franchisees serve seniors in just about any senior environment; in-home, as well as assisted living facilities, nursing homes and senior residences. Touching Hearts at Home provides our franchisees many opportunities for success today and for the future in a rapidly growing industry.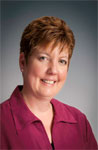 "In addition to the wonderful support that I've received from the corporate office, I'm also very excited to be able to work with the other franchisees. They've reached out and have been very open for me to call and ask them anything. They've all gone through the process and are invested in making my franchise as successful as theirs." - Suzanne Desfosses-Gilliam, Touching Hearts at Home franchise owner, Buffalo NY
Our experience shared with you
Draw from a wealth of experience. Founder and CEO, Renae Peterson, has extensive ownership experience in the non-medical, in-home care services industry. She founded her private care business in 1998, and franchised Touching Hearts at Home in 2007. Renae was a successful franchisee with Merry Maids, founded by her brother Dallen Peterson.
Personalized training programs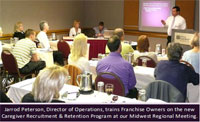 During your five (5) day training session, you will be trained by our CEO, corporate directors and seasoned franchisees.
At your side working together
Support - provided by experienced people who care. Responding to the needs of our franchisees is the cornerstone of our mutual success
A truly unique senior care organization
The future of senior care - seniors are living longer; learn to address their future needs today.
Large exclusive territories - designed to build your business, your success, and your future.
Multiple revenue opportunities - our franchisees provide services in-home, assisted living facilities, nursing homes and senior residences.
Partnership - with an experienced and passionate organization.
Growth - our franchise organization has demonstrated consistent revenue growth since inception.
A united organization - annual national seminars, regional meetings and franchisee interactions provide opportunities to share best practices and generate new business.
Contact us to learn more!