Why Arooga's is so darn good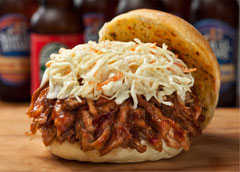 Arooga's Grille House & Sports Bar is changing the way America watches its sporting events. It's also changing the way it drinks its beer and eats its meals. How do we do it? It's about fun-themed dining rooms, the coldest beer in America, more games on more screens, earth-loving resources, signature wing sauces and the tastiest natural cut French fries and chips around.
The result is an award-winning restaurant with killer service, exceptional food and a VIP's view of every game from every seat in the house. It makes Arooga's the place to go - for a family night out, a quick bite or a great place to watch the big game.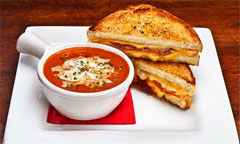 In our first four years, Arooga's opened seven corporate locations in Central Pennsylvania Area. We've won five years in a row at the National Buffalo Wing Festival, the Superbowl of wing contests, and we've won almost every local award that exists.
With this success, Arooga's has received a lot of attention and was selected as America's Next Top Restaurant Franchise. Arooga's beat out over 250 entrants from 36 different states in a program co-sponsored by Sysco Foods and The Franchise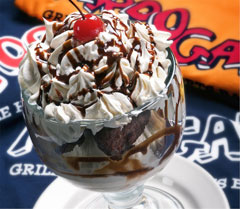 Edge, in a nationwide search to find an independent restaurant that has what it takes to be the next great franchise.
Arooga's owners have been around the block a time or two, and they know what it takes to launch a brand with a real presence— both corporate and franchise. Our goal is simple - turn new customers into regulars by providing an exceptional experience.
Besides great food and sports, Arooga's caters to families, sports teams and the kids. With small flat screens at every booth, kids can watch their favorite cartoons or shows while mom and dad enjoy some time to themselves. Rookies also have their own special menu, crayangle crayons, coloring sheets and games.
The food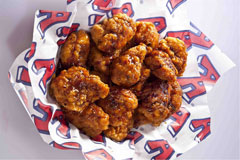 Sports bars with chicken wings is one of the hottest growth segments in franchising. Arooga's wings can be served with over one 100 different proprietary wing sauces. Guests can also enjoy perfectly marbled Kobe burgers which are fresh, never frozen. If cheese steaks are a weakness, then the traditional Philly cheese steak will hit the spot, or customers can try a scratch-made flat bread pizza or strombolis. Our wide variety of fresh, crisp salads are all prepared from local produce.
The bar
Arooga's serves 30 beers on tap including Arooga Light, a signature light beer made in PA, and Arooga's Amber Ale specially produced in a partnership with the Boston Brewing Company. We also serve a wide selection of craft beer, imports and other domestic beers that give every beer drinker something to love. Our full bar includes our own Sagoora Quadruple distilled vodka, Island Oasis frozen cocktails and the best margaritas in town. The bar accounts for between 30% and 50% of our revenue for good reason.
Potential franchise candidates need to have a minimum net worth of $500,000 and liquid assets of $250,000 per location. The total cost of investment for one Arooga's Grille House & Sports Bar is between $592,500 and $1,685,000. The Arooga's Draft House investment ranges from $362,500 to $1,139,000. The initial franchise fee is $35,000. The company is seeking single and multi-unit operators with foodservice and/or restaurant experience. Reduced franchise fees apply for multi-unit agreements of three or more units.

Contact us today to discuss your interest in starting your own Arooga's.