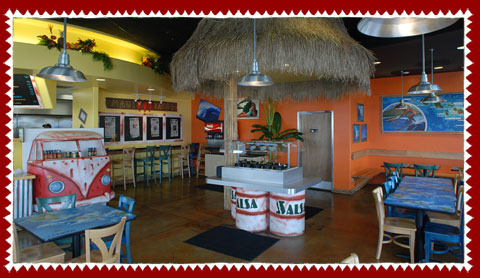 Recognized by "Nation's Restaurant News" as a Hot Concept winner, MAUI TACOS® is "A Vacation You Can Eat™". Hawaiian BBQ pork burritos, fresh fish tacos, chicken enchiladas, mango salads, pineapple salsa and coconut flan are just a taste of the itinerary. MAUI TACOS® combines a cool, hip and laid back dining experience, with exceptional food and the spirit of aloha. When you visit a MAUI TACOS®, you land on an island paradise where you'll find a fusion of fresh Mexican foods paired with the exotic tastes of Hawaii.
To our franchisees, this unique brand positioning represents a marketable competitive advantage with an opportunity to distinguish your restaurant from fast food and mom-and-pop Mexican eateries. Internationally acclaimed Hawaiian chef and restaurateur Mark Ellman opened the first MAUI TACOS® in Napili, Maui in 1993. The store opened with rave reviews worldwide and was quickly followed by seven more locations opening in Maui, Oahu and the Big Island.
The legend continues today with MAUI TACOS® serving up delicious food with "Mauitude" across the mainland.
In 2016, MAUI TACOS® is going global and coming to a hot spot near you! We invite you to surf our restaurant and to taste for yourself why MAUI TACOS® is "A Vacation You Can Eat". While you're there, talk to our customers about this exciting franchise opportunity and our relentless commitment to success.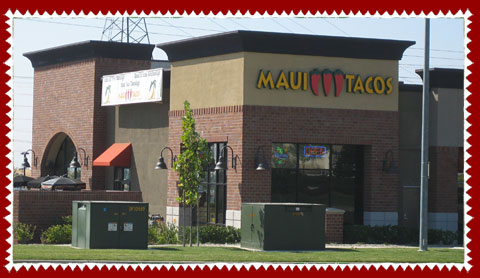 General Requirements
At this time, single and multi-unit franchise opportunities are available in the United States. Once approved, you will sign an individual Franchise Agreement and if qualified, an Area Development Agreement which gives you the right to develop multiple restaurants within an exclusive geographical territory. Internationally, MAUI TACOS® is offering Master Franchise Licenses to specific target market countries. In addition to traditional end-cap and stand-alone locations, MAUI TACOS® are found in the world's finest beaches, malls, airports and universities.
All qualified Entrepreneurs with a proven track record of success encouraged to apply
Total Net Worth and Liquid Assets Qualifications: can be partners combined Net Worth
Net Worth: $500,000USD
Liquid Assets: $100,000 USD
If you have what it takes, contact us to learn more about our proven systems and our comprehensive support services. At MAUI TACOS®, we're confident that the more you know about us, the more you're going to like us!