All Star Driver Education
Franchise Fee: $30,000
Royalty: 8%
Cash Investment: $40,000
Total Investment: $83,700 - $199,900

Founded: 1997
Franchised: 2007
Franchise Description

ALL STAR DRIVER EDUCATION, Headquartered in Ann Arbor, MI, has developed a unique driver education program dedicated to providing comprehensive road safety knowledge and critical thinking skills for our students. By using innovative teaching styles and hands-on experiences with our students, we are able to provide the highest quality and most cost-effective driverís education program in the industry. All Star is committed to educating students by making their driver education experience exciting and enjoyable! We introduce innovative teaching techniques through the creation of our proprietary curriculum and video series, making learning fun, enjoyable, and interactive for our students!

Business Quantifiers:
There are more driver education students today than ever before and more parents who want to have them taught driver education the right way! According to the U.S. Department of Education, enrollment in school age children rose 20% between 1985 and 2003. This means that the pool of teenagers is constantly being refreshed and is expected to grow by an additional 2 million over the next 10 years.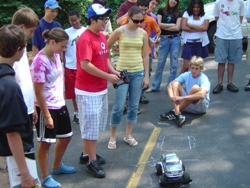 There is a need for private driver educational services in every market in the United States. Many public school districts throughout the country are ceasing to offer driver education, as it is becoming too expensive to operate, and is an excellent budget cut for them. Because of this, the need for private driver education is growing rapidly throughout the United States, and the overall business of driver education is an over $700 million dollar business.

To our knowledge, we are the only franchised driver education school in the United States. This statistic alone, makes selling an All Star Driver Education franchise that much easier.

Special Industry Regulation:
All states and local jurisdictions have enacted laws, rules, regulations and ordinances that may affect the operation of a driving school, which may:
Establish general standards for driverís education school materials and specifications and requirements for the classroom size, location, attendance and school administration being served by the driving school;
Regulate procedures for testing and licensing individuals to be trained as driving instructors as well as classroom instructors, and set standards for vehicles and equipment used for training the drivers; and
Inspect locations and vehicles used in training the individuals at the driving schools.
Franchisee Experience Requirements:
We are looking for individuals who want an opportunity to make a difference in their life, by working mostly with teenagers and wanting to help create safer drivers on their communityís roadways.

Hot Buttons - Key Advantages:
Semi-absentee; franchisees can keep their full-time jobs
Investment level below $100K

Home-based business (no brick and mortar required)
Few employees
Built-in demand (in most states, teenagers must take driver education in order to obtain their driverís license)
Entire country is open for development (not Canada yet)
Strong income potential
Very experienced corporate support team
Educational Franchise
Marketing Tools:
Brochures, referrals, direct mail, Internet, exclusive contracts with school districts, business-to-business, cross-promotions, yard signs.

Training:
All Star Driver Education provides all of our franchise partners a comprehensive training program at our corporate office. This program includes a mix of classroom and live, hands-on training.

Competitive Advantage of the Service:
The $350 Million a year Driver Education business is one of the last industries still controlled by independent operators, not national brands. At All Star we are pioneers in the driver education business and have developed a unique program that will allow franchisees the ability to compete successfully and capture market share, ultimately consolidating the driver education industry!