About Us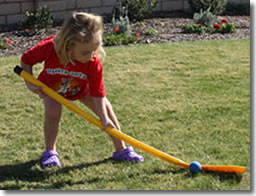 Our year-round Amazing Athletes programs are taught by trained coaches who use age-appropriate equipment to instruct children in the basic fundamentals and mechanics of nine different sports.
At the core of each of our classes are developmental sports lessons with a focus on achieving motor-development goals and milestones. Also incorporated into the class are activities designed to improve hand-eye coordination, flexibility, muscle tone, balance, and speed & agility.
We work hard to ensure our classes allow every child to build their skills at their own pace within a non-competitive, learning-based environment that emphasizes patience, teamwork, and self-confidence.
Amazing Athletes is owned by Dr. Janee and Glenn Henderson and consists of over 30 providers who teach the program in more than 500 locations across the United States. The Hendersons continue to play an active role in Amazing Athletes and as the company continues to grow, their goal of positively enhancing every child's learning experience through meaningful physical activity continues to become a reality.
---
Why Us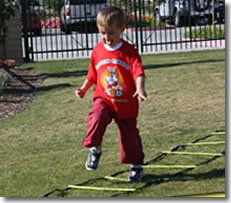 When you open your Amazing Athletes franchise, you will have a streamlined, organized business operation. In addition to our Field Coordinators who will provide Amazing Athletes Franchisees hands-on guidance during the preparation phase, we offer the following benefits:
Long-term franchise contract up to twenty (20) years
On-going guidance by an Amazing Athletes Director
Operations Manual
Yearly Franchisee Conferences
Ongoing curriculum and marketing development
Accounting/reporting systems
Ongoing Support via phone and email
---
Training & Support
Amazing Athletes will provide you and one other person of your choosing with four (4) days of comprehensive training at our headquarters in North San Diego County, California.
Training will cover every aspect of your Amazing Athletes Business including, but not limited to, personal lessons on our Policies and Procedures, Selling Techniques, Accounting System, Web Support, Problem Solving, and Coaching Methods. Training also includes hands-on instruction of the year round curriculum and life class coaching experiences. A Certificate of Training will be awarded upon successful completion of your training.
---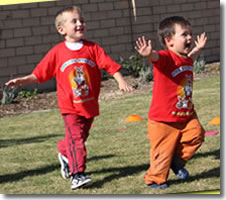 Ideal Candidate
Business-minded
Marketing oriented
Adequately financed
Possess a strong desire and ambition to succeed
Outgoing in nature and who enjoy working with children and people
Our ideal franchisees first and foremost love kids.They are also interested in owning a business that could provide a good income with four to five hours of work per day during school hours. Expertise in physical education is not necessary as franchisees will be well trained to present a fifty week curriculum that consists of one 35 minute class per week.