Kid To Kid
Franchise Fee: $25,000
Royalty: 5%
Cash Investment: $75,000
Total Investment: $258,160 - $448,660

Founded: 1992
Franchised: 1994
WHO ARE WE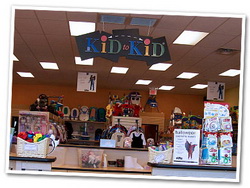 At Kid to Kid Franchise Systems we tend to do things a bit differently than most franchisors. One thing we like to do differently is call our franchisees 'owners'. To us they are more than just a franchisee—they are owners of an exclusive Kid to Kid location and an extension of our values. Our owners are also our customers, and as such we strive to go above and beyond to make sure their needs are met. After all—our success is directly correlated to their success.

We believe our owner community is a wealth of knowledge and that sharing this expertise between all of our owners is essential to making our Kid to Kid system better. In order to help foster this communication we have set up several programs. One such program is our annual owner's meeting that brings owners together from around the world. We implement new systems, release updates, and receive feedback from our owners on how to improve. There is also time set aside for owners to gather and share ideas and best practices. Friendships (and sometimes a little healthy competition) are created that last long past the meeting. Without spending a long time explaining the details, another program we have is our Performance Groups. During performance group meetings a group of your peer owners will spend some time in your store, evaluate your business practices, and look for ways to improve. We even send out a Kid to Kid Franchise representative to administer the meeting. This is just another way we set ourselves apart.

A GROWING MARKET

With more than 40 million children under the age of 13 in the US, the need for quality children's products at affordable prices is a HUGE, and growing rapidly! Recent studies by the USDA show that the average parents spend $190,000 to raise a child to 13—$32,000 of which is spent by the age of 2. Additionally, every year this same child outgrows more than $1,000 of clothes, toys, and equipment. Although many of these items are still in good condition, parents must replace them with expensive new ones.

THE UPSCALE APPROACH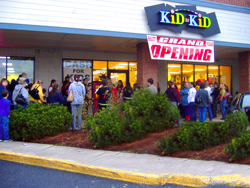 With the cost of kids growing rapidly, today's consumers enjoy a bargain. But some parents would feel uncomfortable shopping for their children in a second-hand store, even if prices were low. Kid to Kid sets itself apart by offering an environment, product selection, and overall experience that appeals to customers who otherwise would not shop in a thrift store. Our customers get the prices they want (and demand) without sacrificing the creature comforts the mall stores provide.

From our little pink door that greets kids as they arrive, to the look and feel of our marketing materials and displays, customers sense that we are different. And they respond positively to that difference.

WIN - WIN - WIN

Sounds like the name to a school fight song doesn't it? Well that's not quite it. It's actually the way we like to describe the way the Kid to Kid system works. Kid to Kid store owners are different from most franchisees. Their success is a natural result of meeting customers' needs. And they understand that participating in the Kid to Kid buying and selling process is a win-win-win situation. Families win when they receive cash for recycling their used children's products. Parents win as they purchase quality used products at a fraction of retail price. And store owners win as they reap the personal and financial rewards which come from dedication and hard work.

OUR SUPPORT

Becoming a Kid to Kid owner is an exciting adventure. It provides many of you with an opportunity to be in business for yourself for the very first time. But for this very same reason the decision to become an owner can be daunting. It shouldn't be! Be comforted in the fact that Kid to Kid will help you every step of the way. Our upscale approach to children's resale has proved effective for the past 15 years and in over 70 stores. Once you have joined the Kid to Kid system it puts into motion an orchestra of events on our end. Here's just a sample of what you will receive:
A franchise support representative will be assigned to your store. They act as a business mentor, associate, and friend.
Someone will come out to help select your site. They will then negotiate your lease to obtain the best possible terms—and save you money.
Assistance with the financing of your store. Use one of our many contacts if you would like.
A complete store design and assistance with your construction and store fit-up.
Certification to run an entire Kid to Kid store (after completion of our 11 day training program of course). Our training contains a healthy mix of both classroom and in-store instruction. But you are still not on your own!
We arrange for you to take part in an internship at another store--this gives you more hands-on experience and a chance to meet another great owner.
A Kid to Kid representative will be at your store shortly before your grand opening, during your grand opening, and shortly after to make sure things run smoothly.
Having trouble with your computers? That's not a problem—contact our IT department anytime.
A professional marketing plan tailored to your market and the materials to go along with it.
Ongoing assistance from our professional support team that will help you dial in every aspect of your operation.
Need help with that nagging cough? We will get you in touch with a doctor near you. After all, you can't expect us to do be able to do everything—but we will sure try!