About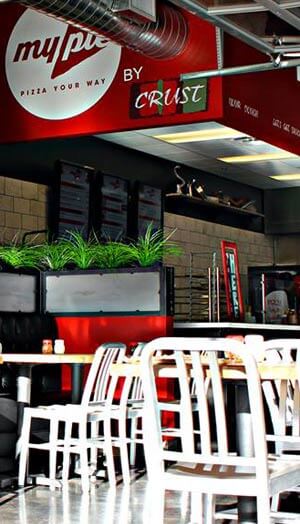 The Story Behind My Pie
It was spring of 2012 and 3 guys from the East Coast were sitting around thinking about how they were going to grow their Italian Pizza Restaurant concept called Crust. At that point, Crust already had the making of a growing restaurant group with locations in Phoenix and Scottsdale, a catering company, MLB partnerships with the Arizona Diamondbacks and Colorado Rockies, a location in the Phoenix Convention Center, and retail line that is anchored by their homemade Kurt Warner Marinara Sauce.
So the question became... What's next?
A few days after the meeting, one of the partners found himself in Chipotle choosing between hormone free chicken and beef, and suddenly he saw sausage and pepperoni! The idea of fast casual pizza immediately came to mind and My Pie: Pizza Your Way was born.The guys knew they wanted their new concept My Pie to follow in the foot steps of their sister restaurant Crust by using homemade recipes, authentic New York inspired pizza and strong family values. They also wanted it to incorporate some of the new, modern culture.
My Pie is truly a modern classic. It is a place where each guest has the opportunity to custom build their own dining experience using authentic Italian recipes and having it served New York fast. My Pie makes its own dough and sauces daily from scratch, they procure the freshest vegetables, the highest quality meats and bake them all together in an 800-degree oven for two minutes. The My Pie guys are simply passionate pizza people and have figured out how to create an authentic Italian, New York-style pizza in a New York minute. There is no other pizzeria like this between here and Brooklyn… Guaranteed!
Today My Pie not only offers a taste of New York to local neighborhoods, but also remains focused on its core values by giving back to the local community. Their partnership with Kurt Warner helps support his charity called The Treasure House by donating back 10% of all retail proceeds of his Kurt Warner Marinara Sauce. My Pie wants all of their guests to feel the passion they have for their food and their concept. The My Pie guys and every employee in every restaurant are committed to giving guests the experience of NY energy and great pizza! They want people to feel at home; a welcome guest invited to enjoy pizza with the My Pie family.
What Makes a My Pie Franchise a Great Choice?
My Pie is NY Style and NY Fast, from NY Heritage. What does this mean?

NY Style – Distinguished by quality ingredients and flavor, it's an art form for real New Yorkers, passed down from generations. With homemade recipes and strong family values, you can taste the passion put into each pie. My Pie brings the flavor of NY right to your neighborhood, all in a New York minute.

NY Fast – New York is about CONVENIENCE and SPEED! We provide guests the ability to custom build their own pizza and have them watch it cook in just 2 minutes in our Neapolitan style, 800* "Wave Oven".

NY Heritage – Real New Yorkers know the word loyalty. We have family values instilled upon us passed on through generations. The same loyalty found in our culture is found in our guests. Our team of employees are a tight family, proud to serve a great product and enjoy doing it! It's easy for guests to see the quality in the pie and the people serving it. At My Pie, we are truly passionate pizza people.