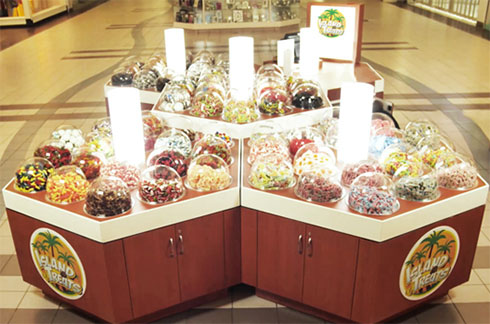 Come and discover a world of sweets! Island of Treats is a Patent Pending self serve bulk confectionery, filled with a vast variety of delicious sweets - ranging from mouthwatering gummies, gourmet chocolates, to slowly roasted toffee nuts. Who doesn't love to indulge themselves with the irresistible and sweet sensation of their favorite candy? There is always something for everyone at Island of Treats. The opportunity to own your sweet island has finally arrived!
Why Island of Treats?
Turn-Key Candy Kiosk Franchise
Comprehensive Training & Store Support Included
Don't Wait To Build Out! Open Immediately After Your "Island" Is Assembled!
Low Royalty Fees & Most Importantly Each Customer Leaves With A Sweet Smile!
We Cherish Our Earth By Planting Five Trees For Every Franchise Per Location – each day.
How Does Island of Treats Work?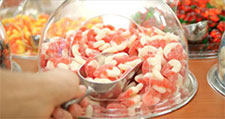 At Island of Treats, customers are able to mix and match anything they please and best of all - everything is the same price! Just pay based on the weight of the bag. Get as much, or as little as you want to please your sweet tooth!
Island of Treats designed their patent pending retail display unit focusing on providing the franchise operator ease of assembly and convenient daily operation. The kiosk features a built in self-contained commissary plumbing system and a "plug & play" electrical setup that will get you started serving customers in no time! Assembly of your unit takes approximately eight hours, once the kiosk is completely fabricated and delivered to your approved venue. 
Enabling you to be open within days of installation is just part of the extra sweetness Island of Treats has to offer.
The Simplicity of Your Own Sweet Island: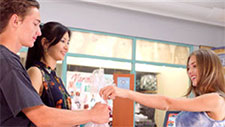 Island of Treats is a genuine turn-key operation without the headaches and stressful pressures that are typically found in food related business ventures. Island of Treats will personally deliver, assemble, install and fully setup your retail confectionery unit overnight at your selected and approved site. Come into your brand new store the next morning and begin your first day by switching the lights on. Now it's time for your initial training!
Train and Gain:
The initial training program is designed to provide you with the knowledge to manage and operate an Island of Treats concept - including systems, operations, marketing and sales techniques for the management of your confectionary unit. After the unit is installed, we will provide on-site support and training to you to get you going!
Island of Treats is seeking highly motivated Franchise Partners to continue our franchise development. It is preferred that Partners have:
Restaurant management experience as an owner and/or operator* AND/OR -
Experience as an owner and/or operator* of a retail store within a mall, airport, movie theater, transportation hub or entertainment venue.
Enthusiasm and passion for owning their own confectionary franchise which creates ever-lasting memories and smiles for their visitors.
An enjoyment in giving back to their community and our world.
Island of treats plants five trees for each franchise location per day.
To simplify your operations even more, Island of Treats franchisee support teams includes development and leasing experts, operational support professionals, training managers and marketing managers.
Island of Treats offers annual franchise support. From Marketing Programs such as Social Media Management, Brochure Designs, New Product Introductions, Media Pitches, Technical Phone Support, a detailed franchisee operation manual and quick access to personal assistance from the team at Island of Treats – you will always have a committed team leading you forward, every step of the way!
Never Let Your Business Leave Your Side Again:
Best of all, the complete retail unit is on invisible wheels making it completely modular, simple to move around, and a secure tangible investment - just in case things don't work out in the venue where you are located initially. Please note our FDD does not allow relocation without prior approval from Island of Treats.
Avoid Being Double Dipped!: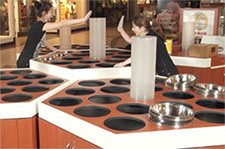 To sweeten things up even more - Island of Treats sticks to a strict NO "double dipping" policy, which is exclusive to anyone who is part of the Island of Treats Franchise Family. Typically, conventional food franchises collect more than just a royalty fee; they also lock the franchisee into an exclusive and direct inventory purchasing agreement with the franchisor. Essentially, this restricts the franchisee to one single market at all times, thus making the franchisee vulnerable to uncontrolled prices set by the franchisor.
In contrast, Island of Treats allows you to source the candy from wholesale distributors in the area – based on our prior approval of your selected Supplier(s). However, should you choose otherwise, you may also purchase candy and various merchandise from Island of Treats at low wholesale prices. Inventory, supplies and products must be purchased from suppliers approved by Island of Treats.
NO "double dipping" entitles you to earn more, by saving on your inventory. Transform those savings into operating profits on the very first day you open! The vision of Island of Treats is to help independent franchise owners bring a moment of bliss to their customers, one scoop of candy at a time!
Please Note: The franchisee must carry all of the name brand candy that Island of Treats requires. Franchisees must source candy from suppliers that have been approved by Island of Treats, as listed in the FDD.
2015 Development Incentives*: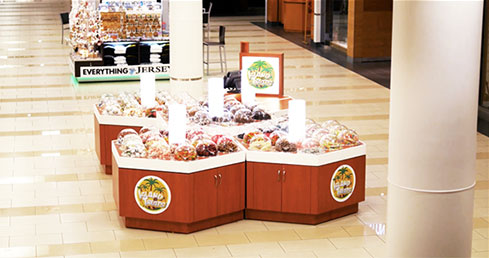 Island of Treats is offering up some fantastic incentives to new candidates. Please see if you are qualified for either discounts listed below:
Sign on to join the Island of Treats franchise family and receive US$10,000 in starting initial inventory free of charge. In addition, you'll receive free freight delivery, assembly and complete setup of your unit by our team - valued at US$5,000. This incentive applies to all new single-unit or multi-unit franchisees.
Sign on to a multi-unit store development agreement for three units or more and you'll receive a US$25,000 discount from the total amount of the license fees.
As a proud supporter of our U.S. Military Veterans, Island of Treats is pleased to offer eligible U.S. Military Veterans (those who served on duty of 20 years or more) a complete waiver of the 10-year Initial Franchise Fee on their first confectionery! Those veterans who served between 10-19 years will receive a 50% discount and those veterans who served between 1-9 years will receive a 25% discount of the 10-year Initial Franchise Fee.  
Candidates who are existing shopping mall, event arena or transportation venue operators (franchise or independent, food, retail or kiosk) will receive a 25% discount of the 10-year Initial Franchise Fee.
*Island of Treats, LLC does not furnish any oral or written information concerning actual or potential sales, costs, income or profits with respect to a franchised business. Actual results will vary from franchise to franchise, and FDD cannot estimate the results of any franchise.
*Proof of documentation may be required to be qualified for any of the discounts listed above.
*See Island of Treats Franchise Disclosure Document for full details.
*THIS OFFERING IS MADE BY PROSPECTUS ONLY. IT IS FOR INFORMATION PURPOSES ONLY. THE OFFER OF A FRANCHISE CAN ONLY BE MADE THROUGH THE DELIVERY OF A FRANCHISE DISCLOSURE DOCUMENT.

Come and see why Island of Treats is truly the sweetest franchise around.
READY…? SET..? SCOOP!