OWN A BUSINESS THAT BLOWS THE COMPETITION AWAY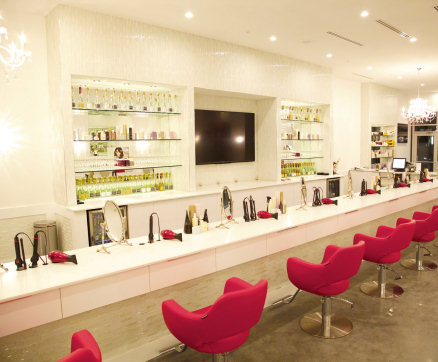 The popularity of smooth-looking hair and affordable luxury is growing rapidly. Women want quick salon services at incredible value. Cherry Blow Dry Bar is the modern woman's take on the traditional beauty parlor.
What makes Cherry Blow Dry Bar even more unique is our franchise model: There's no hair care experience necessary - and you own the salon. You focus exclusively on growing the business in a booming industry with the support of a global business team. Own a business that's in demand.
The Cherry Blow Dry Bar Brand
Providing customers an experience that's second to none
Cherry Blow Dry Bar is built on two essentials:
Providing customers an exceptional hair care service at a great price
Making the atmosphere and experience of your salon unforgettable
As soon as a customer walks into your Cherry Blow Dry Bar salon, they're instantly transported to a world of celebrity-level luxury, the kind of place they read about in magazines.
The chairs are deliciously soft, and the design is modern, stylish, and completely relaxing. It's an ideal place to prepare for the day, or let the stress of the day go with a complimentary glass of champagne or a cocktail while they get ready for the evening.
Our proven combination of service, atmosphere, and value keep customers coming back again and again.
About Us
A new concept in hair care has made its way to the U.S., growing what has become a $40 billion a year global hair salon industry. Meet Cherry Blow Dry Bar, an expanding franchise that provides blowouts, hair extensions and makeup services for a perfectly finished look.
Under new ownership of franchise veterans Steve Vicario and Fred Vicario, the popular Australian export is being reinvented to meet Americans' growing demand for quality hair care while also providing a business opportunity to entrepreneurs interested in the booming industry.
Offering blowouts for hair of any length for $35, hair extensions starting at $395 and a membership program starting at $59 for two blowouts with a membership for unlimited blowouts available, Cherry Blow Dry Bar is making a new name for itself in an industry that has taken off since 2010. Aimed at creating chic styles in an elegant yet classic blowout-bar setting, it's targeted to any woman looking for beautiful hair, no longer needing to be justified by a special occasion.
"Cherry Blow Dry Bar is taking what used to be considered a luxury and turning it into an affordable way to maintain one's hair style, far more frequently than would be possible at pricier salons," said Cherry Blow Dry Bar President Fred Vicario, who, along with brother Steve, was inspired to take over a franchise concept they determined ripe for growth. "Our focus is going to be on creating the perfect membership model for the industry."
"The way the blow dry industry is today, most businesses can't keep up with the demand," said Fred Vicario. "Cherry Blow Dry Bar meets that demand, but what makes our concept unique is that it does so by providing blowouts, which most women expect to be sold for a premium. Ours are at a price that that's far more reasonable than most competitors, a cost that allows women to have their hair done often. Many of our clients come two to three times a week."
Each possessing years of franchising experience, brothers Fred Vicario and Steve Vicario saw a lot of promise in Cherry Blow Dry Bar. Formerly an executive at Maaco for 20 years, Fred Vicario grew that franchise from 300 units to 550 units during his tenure. He was also a Goddard School franchisee for 15 years, and, along with Steve, a regional developer for Hand & Stone Massage and Facial Spa that they grew by more than 30 locations. The Vicario brothers knew a good business opportunity when they saw it.
"We saw a similar blowout concept in California and were intrigued by the potential," said Fred Vicario. "We came upon Cherry Blow Dry Bar and liked what we saw. We became regional developers in 2014, initially signed up to cover Pennsylvania, New Jersey and Delaware. But after negotiations with the previous owner it became clear that under our leadership, we could truly grow the brand not only regionally, but beyond."
Recognizing areas in the system that could be improved, the brothers took over the franchise and began to leverage their business acumen and contacts immediately.
"Our successful experience with Hand & Stone gave us the confidence that we knew what needed to be done to turn this system around," said Vicario. "We hired our Director of Education and Operations, MariLynne Cosmillo, to provide a level of training to help franchisees succeed out of the gate. MariLynne has been in the hair care and blowout industry for over 10 years and quickly focused on the key issues we needed to solve."
With eight locations currently in operation throughout California, Florida, New Jersey, Tennessee and Virginia, the new owners of Cherry Blow Dry Bar see big growth for the franchise. Within the next five years they aim to add an additional 200 franchised locations to the mix. Given their background, Vicario believes that goal is readily attainable.
"Steve and I already had our own ventures before coming to Cherry Blow Dry Bar, so we wouldn't have come aboard had we not seen something special in it," said Vicario. "Cherry has the right concept and has a core set of principles we really believed in. With the changes we've made, the quality styling we provide and the additional services we hope to soon offer, Cherry has a bright future ahead."
Just the facts
Founded in Sydney, Australia in 2008 by Nathan Cuneen
Quickly grew to more than 23 locations
Began franchising in the U.S. in 2013
In 2015 the company was taken over by Fred and Steve Vicario who have years of experience in franchising and are ready to take the Cherry Brand to the next level.
Offers a unique owner-investor model (no need to be on-site full-time)
Provides site selection and build-out assistance
Has a comprehensive franchisee training program
Conducts regular, ongoing training and skill enhancement to staff
Provides ongoing operations support
Precision training gets new stylists immediately up to speed
Provides marketing assistance and public relations support
Keeps the brand name in the public eye through promotions and events
Implements strong national marketing campaigns to build brand recognition
THE BLOW DRY BAR INDUSTRY
A booming industry in which to build your business
The blow dry bar phenomenon caught fire around 2010 in the United States and it hasn't slowed down since. The concept is now ubiquitous among discerning women, who use blow dry bar services as part of their regular pampering routines.
The hair salon business is now a $40 billion per year global industry with the blow-drying niche growing faster than other traditional segments.
There is no end in sight for the growth of this industry. And with a sound, proven business model and operational method in place, Cherry Blow Dry Bar offers you a way to get into an exploding industry without having to figure it out on your own.
THE CHERRY BLOW DRY BAR FRANCHISE OPPORTUNITY
Business System
The Cherry Blow Dry Bar approach to business is a volume-based model. And we draw in the ideal customer through two simple, proven methods:
Low prices
High-quality service
Our approach to the blow dry bar business relies on the high quality of our service and ultra-competitive $35 price point. We easily attract, and easily retain customers.
But the revenue model doesn't end there. We have developed a system of multiple touch points throughout our salons, from product sales to professional hair treatments, which work to maximize value per customer.
CANDIDATE PROFILE
Are you a Cherry Blow Dry Bar franchisee?
We're looking for business-minded entrepreneurs who:
Are passionate and committed to success
Have strong business and management skills
Believe that helping others is rewarding
Cherry Blow Dry Bar franchisees are required to have a minimum of $75,000 in liquid assets, and a minimum net worth of $350,000.
In addition, having experience in franchising, running a business, or operating a multi-site operation is useful, but not necessary, because of our comprehensive training and ongoing support.