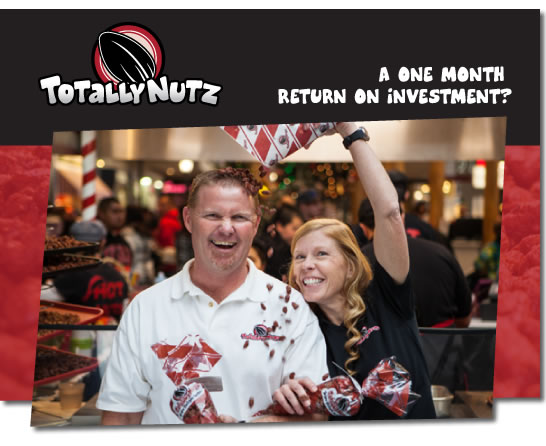 Our Story
Looking for a family-friendly, wholesome business? Totally Nutz was created by Founders Matt and Yvette Barker, so that they could enjoy a much more family friendly lifestyle, and even work the business with their young children.
---
Why Totally Nutz Works
Low Cost/High Value Investment
The initial investment for Totally Nutz is approximately $70,000. For many Totally Nutz Owners, the ROI can be achieved in the month of December alone!
Lifestyle
Totally Nutz Allows for both full-time and part-time Franchise Owners. Some Oweners even take 3 month vacations, while still enjoying a successful business!
Scalable
Whether you want to own one location or build an empire, Totally Nutz has several business models—from mobile to fixed locations—to help you create the type of business you want.
Advertising
Not many companies can say that they have built-in advertising. With our fresh-roasting on site as soon as we start to fresh-roast people start to follow their noses!
Family Friendly Model
Totally Nutz is a family friendly franchise. The franchise allows Mom and Dad to generate serious income in a fun atmosphere while teaching their children the value of an honest day's work.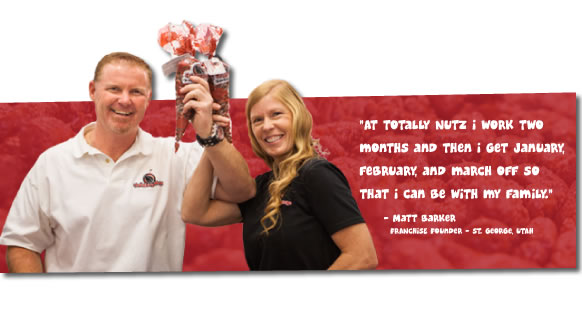 ---
Two Business Models
Totally Nutz offers two business models. The Venue Package is our mobile option for venues like fairs, professional sports stadiums, arts festivals, or farmers markets. We also offer a Kiosk Package, which is a semi-permanent set-up, ideal for mall locations, stadiums or transportation hubs.
---
Training
There are 4 days of intensive (and fun!) training at the St. George training facility. 2 Days of additional on-site training. We also provide periodical follow-up training, site visits, and an Annual conference every two years.
---
Ideal Candidate
Totally Nutz is expanding nationwide (except Utah where we are now sold out!). The ideal Totally Nutz franchise candidate will:
Family Comes First
Provide Authentic, Outstanding Service
Have Fun, Go a Little Nutz
Be Hungry to Succeed
Treat Each New Day as an Opportunity

Learn More Today!