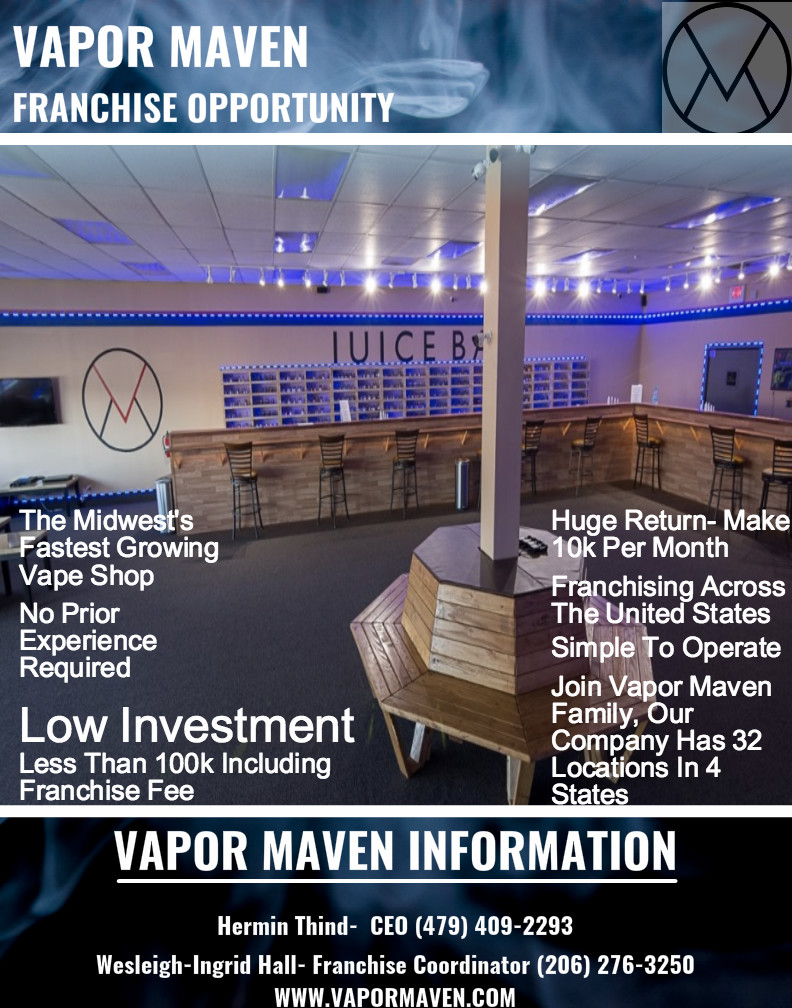 Own a Vapor Maven Build your own future and start your own business 
Vapor Maven is the Midwest fastestOwn a Vapor Maven Build your own future and start your own business 
Vapor Maven is the Midwest fastest Growing Vape Shops 
WHY Vapor Maven?
Industry leading training and support system
Simple to operate
Loyal customer base
Marketing and operations support
Low Investment, Huge Return 
Help people improve their lives and health by switching to a better alternative.
No prior experience required
Protected territories still available in desirable locations
Franchise manuals with step‐by‐step detailed instructions to set‐up and develop the business
Over the past few years the vapor (e-cigarette) industry has been experiencing phenomenal growth with new vapor shops opening up throughout the United States. Come Join the Team with Vapor Maven and start your Own business today.  
About Us
A True One-Stop Shop
Welcome to Vapor World & Vapor Maven's online vape shop!
We carry thousands of products in our retail locations and are proud to offer a selection of those products online at a competitive price.
We offer high-quality e-juice, starter kits, box mods, rebuildables, atomizers, batteries, chargers, and much more!
We are an authorized retailer from all product manufactures we carry.
Customer service is a high priority at Vapor World & Vapor Maven. Our friendly and knowledgeable staff is readily available to answer any questions you may have. Feel free to contact us via email anytime!
Every week, our team sends out a newsletter to all of our subscribers to inform you of events, new products, and special sales.
Our entire inventory is secured in our warehouse.
All of our house juice is created in our corporate headquartered clean room.