Scramblers
Franchise Fee: $40,000
Royalty: 4%
Cash Investment: $100,000
Total Investment: $400,000 - $700,000

Founded: 1991
Franchised: June 2007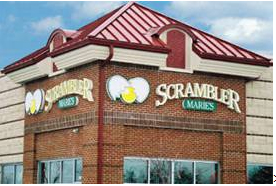 Scrambler Maries is a unique restaurant franchise serving breakfast and lunch. By focusing on the breakfast and lunch niche, Scrambler Maries achieves powerful market differentiation. As we continue to expand were looking for enthusiastic individuals to join us.

As a Scrambler Maries franchisee youll own an easy-to-operate restaurant that provides you with significant lifestyle benefits and competitive advantages.


Great Lifestyle
The "breakfast and lunch only" nature of the business offers several key advantages,including: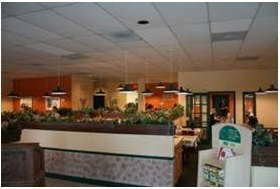 No nights- The hours of operation are 6:30am to 3:00pm daily. Youll enjoy professional hours and have your evenings free.
Minimizes staffing costs- Single shift labor scheduling allows a maximum 10-hour day, which limits the costs of management, crew staffing and supervision.
Creates a preferred shift for staff, which helps attract a large pool of prospective employees.
Upscale breakfast concept drawing preferred clientele (our target market includes business professionals, womens groups, shoppers, middle and upper income families).
Avoid the problems and alcohol challenges of a night shift.
If you have always dreamed about owning a restaurant that would become the neighborhood favorite...If youre looking for an idea that is efficient and simple to operate. If youve searched for a way to be in the restaurant business for yourself, and still have a life away from work...
Look No Further- The Scrambler Maries Franchise Opportunity is The Answer
Despite the competitiveness of our industry and challenges in our economy Scrambler Maries continues to grow. In an industry which is becoming increasingly fragmented, Scrambler Maries stands out from the competition.
Great Choice
Our menu offerings and the versatility of our restaurants attracts a large audience. Scrambler Maries restaurants feature:
Preferred product mix for business meetings and power breakfasts
Top of mind awareness for the exclusivity of the breakfast / lunch day concept
Conference rooms
Carry-out orders
Facility design that is conducive to breakfast and lunch meetings
Extensive and high-quality full lunch menu, allowing tremendous growth opportunity to build on the established breakfast base and a competitive edge in the lunch market
Design that is suitable for residential, office and retail locations
Tremendous potential for evening opportunities, including parties, banquets and facility rental Ability to offer private banquet dinners for groups of 25-200 people, which provides you with an additional potential revenue stream

Great Experience
As a Scrambler Maries franchise owner youll benefit from our 15+ years of experience operating this exact concept, not a prototype. We provide you with:
Comprehensive training
Site selection assistance
Construction and build-out guidance
Marketing support
Opening assistance
Ongoing support
Operations manuals
Territories are available based on population
Single location available in: OH, IN, MI, WV, KY, PA
Area Development available in same as single plus WI, IL, TN, VA, NY,MD
Master Development available: everywhere
To receive more information on this breakfast and lunch restaurant franchise opportunity, or to contact the franchisor directly, please complete the form below: